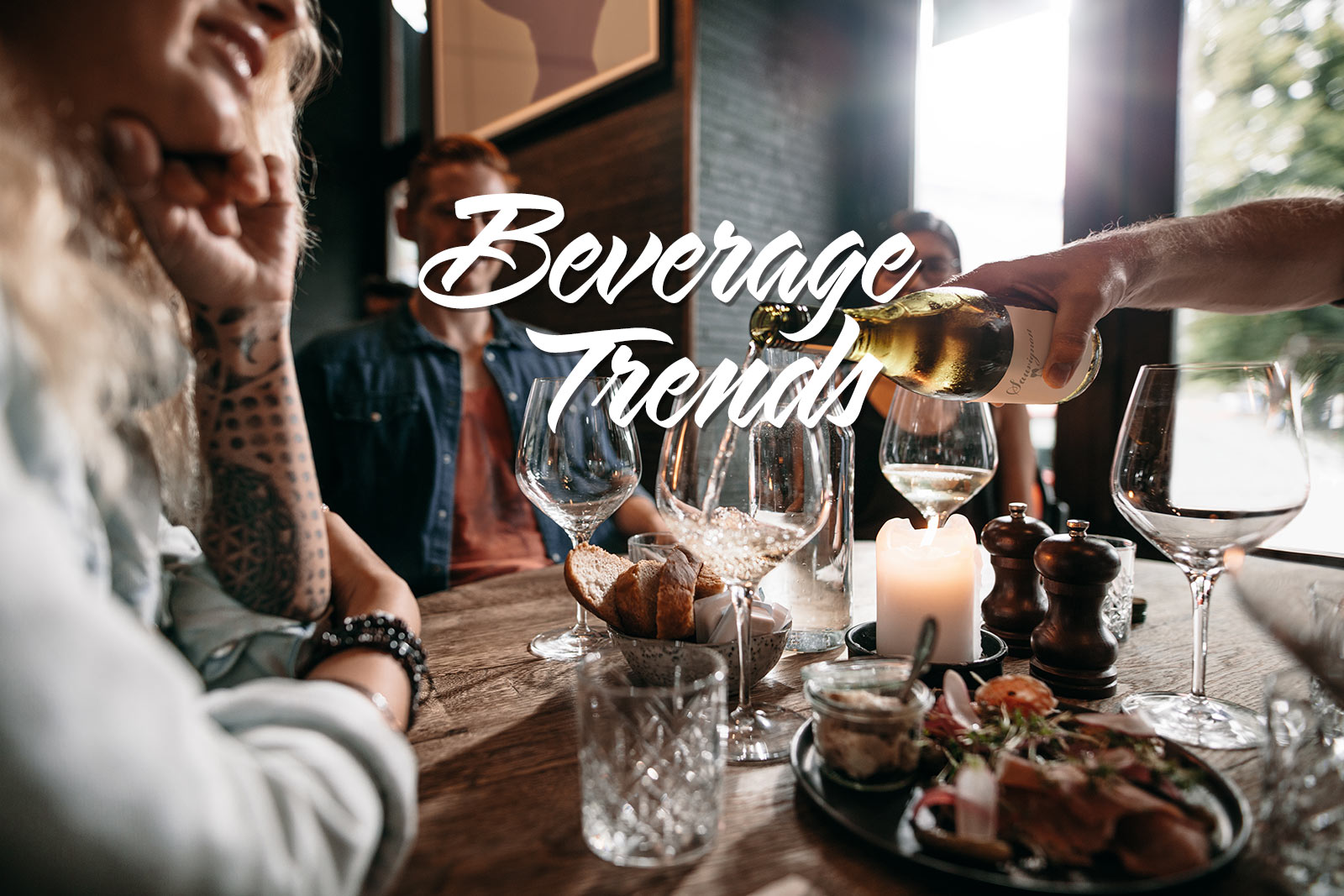 MILLENNIAL BEVERAGE TRENDS
Millennials make up about one-fourth of the U.S. population and by 2018, this segment will have the most spending power of any.
So it's safe to say that marketers need to get to know this group in order to thrive in the future millennial-driven market.
This segment is leading the pack in most movements, including all-natural, organic, vegan, vegetarian, and local sourcing.
The beverage industry especially has been impacted and many corporate giants in this market have had to adapt to survive. Not to mention, new companies are developing innovative beverages that are gaining traction in the market.
To quote Darwin, "It is not the strongest or the most intelligent who will survive but those who can best manage change."
"Companies are offering more options than ever before, including more low and no-calorie options, as well," said Lauren Kane, senior director of communications at the American Beverage Association. "Nearly half of the beverages they sell do not contain calories. They are innovating and offering more choices so people can make the best choice for them that fits their lifestyle. Our industry is built on innovation, so companies are always reformulating and innovating to meet the changing taste of consumers."
Millennials Propelled the Craft Beer Movement
But millennials aren't only gravitating to healthier beverages, they are looking to try new ones that they have never tasted before. Thus, the craft beer movement was born and it has forever changed the brewing industry.
The growth in national beer sales in 2015 was significant.
According to the Brewers Association, overall beer growth increased by only 0.2 percent, while craft beer spiked by a whopping 12.8 percent. Import beer saw a 6.2 percent growth and export craft beer saw the most growth with an impressive 16.3 percent increase.
Back in 2010, craft beer was on par with the beloved major soda brands in terms of consumption.
We decided to pull social data from Foodable Labs to see how millennials' consumption of beverages has changed within the last six years.
National Trend of Beverage Consumption by Millennials (ages 18-34)
Have Millennials Fallen Out of Love With Soda?
As you can see, we have seen an increase in wine, craft beer, spirits, tea, and craft soda. However, we saw a significant decrease in the consumption of major soda brands.
Why is that? Well, there's a few factors. The first being that there are much more beverage brands available out there nowadays. We were tracking 129 in 2010 and in 2016 that number spiked to 498 brands.
Secondly, millennials use social media to share their experience, especially new ones. So a 23 year-old is much more likely to snap a photo of a new wine they are trying versus the diet soda they had at lunch.
And thirdly, major soda brands sell beverages with a negative unhealthy connotation. According to the government, about one-third of added sugars in American diets come from soda. Today's millennial consumer is highly educated on health, so this means they understand what high fructose corn syrup and aspartame are and are steering clear of them.
There has been such emphasis on these unhealthy beverages, that even the government is stepping in to regulate them.
The California cities of Albany, San Francisco, Oakland, along with Boulder, Colo., and Chicago's Cook County have all just passed taxes on sugary soda beverages in this latest election.
Why the Soda Taxes?
Those in favor of these tax measures argue that these beverages contribute to the obesity and diabetes epidemic, and that the funds collected will be directed to help fund health programs. These measures are expected to raise millions to help combat these health issues.
But will the increase in soda prices in these areas detour millennials from purchasing these beverages?
The sections of country where these taxes were passed are known for an abundance of health-conscious consumers, who are much more interested in other beverages on the market.
What millennials were drinking in the last 12 months:
Instead, millennials in these areas (and nationwide, although the numbers are not as drastic) are more interested in organic wines, micro-brews, premium teas, and artisan handcrafted cocktails.
THE RISE OF CRAFT SODA: Q&A WITH SIPP AND BOOTS BEVERAGES
One growing trend that promises to change the landscape of the beverage industry is the rise of craft soda companies. Like their cousins in the craft beer field, craft soda companies are focusing more on exploring a wide variety of flavors and tastes that consumers don't get from the more popular soda brands. In fact, to capitalize on this growing trend, many national brands are trying to tap into the market.
While overall soda consumption dropped to its lowest point in 30 years this past March, craft soda continues to gain new fans and converts. The craft soda boom is a reflection of the shift away from mass-produced goods and towards more innovative and unique brands, and it's also a reflection of our growing interest in products that have a real, authentic story behind them. So, where does craft soda go from here?
We spoke to two of the country's top craft soda brands: SIPP and Boots Beverages, both of which ranked as a top 10 craft soda brand in our latest fast casual report. Our goal was to understand the phenomenon a little better and to get an idea of two industry leaders' visions of the future of craft soda. And based on what we learned, it's safe to say that craft soda is only going to increase in popularity in the years to come.
About SIPP:
SIPP was founded in 2010 by Beth Parentice. After her corporate career reached a dead end, Parentice decided to turn her passion for creation into a professional endeavor. Beth's first idea was to make organic cocktails; however, after considering the cost of creating alcoholic beverages, Beth decided to change direction. Rather than creating organic spirits, Beth chose to focus instead on non-alcoholic offerings that could be used as mixers in specialty cocktails. And so, in 2010, SIPP was born. The rest, as they say, is history.
About Boots Beverages:
Not many craft soda companies can say they got their start when FDR was the President of the United States, but Boots Beverages can. Boots Beverages' parent company, Kristen Distributing Company, was founded in 1930 by Ambrose Kristen, who purchased Bellville Bottling Works and ran the business through World War II. After Ambrose retired and a new generation assumed control of the bottling works, Ambrose's son, Boots Kristen, started manufacturing his own line of sodas. The result was Boots Beverages, and the brand remains alive and well today. Boots got its start by offering naturally-flavored seasonal sodas in glass bottles (which were supposed to be refillable, but customers instead littered the streets with their empty bottles); early offerings included strawberry, lemon, and peach sodas. In 1962, Boots closed its doors, but in 2013, Mark Kristen, Boots' son, reintroduced the brand based on his father's concept from the 1940s.
Q: What is it about craft soda that appeals to such a broad consumer base?
Beth Parentice (Owner, SIPP Organics): Craft soda is appealing to consumers in a similar way that craft beer is appealing. It's unique in flavor, and there's usually an interesting story that goes along with the brands.
Consumers want to feel connected to what they buy. They want to experience more than just the well-known big brands, they are willing to pay a higher price in order to enjoy something interesting, and the data that's available to us is telling us that.
Kim Rank (National Director, Boots Beverages): TASTE! Consumers have more sophisticated taste buds nowadays and look for authentic, lifestyle brands. There has been an increased interest in distinctive flavors and sophisticated flavor profiles, as well as natural and high-quality ingredients. Boots Beverages is the very definition of distinctive, [and] craft soda allows for consumers to create an emotional attachment to a drink.
Q: How do craft soda brands differentiate themselves from traditional soda brands?
Parentice: Craft soda brands differentiate themselves by communicating to consumers the fact that their product was created out of a passion for flavor, high-quality ingredients, keeping the integrity of the brand, and bringing new and exciting experiences into the market. This is our highest priority at SIPP.
Rank: Premium ingredients, quality, packaging, and authenticity. There has been a growth in popularity with craft sodas due to interest in nostalgia, authenticity, and healthier ingredients. Our authentic brand's wholesome heritage led to the creation of our unique flavors and our packaging plays off of the family background.
The Roots of Boots (get it?) has a great story. Every family has a story and we are lucky enough to share ours through our different flavors on the labels with engaging tales. All the flavors have their own identifying label, featuring a Kristen family member who worked at the bottling company, along with a little bit of [their] history.
Q: How have you seen craft soda brands change over the years?
Parentice: When SIPP was created back in 2010, craft soda really wasn't even a word that existed. I think as we've seen craft beer take off and the beer industry transformed, it [has] created this need in the market for a similar transformation in the carbonated soft drink category. Consumers are interested in having a fuller-flavored, non-alcoholic carbonated drink like a soda, but they don't want all the artificial ingredients and high sugar that goes along with it.
Rank: In the 1940s, 1950s, and 1960s there were a lot of regional soda makers. In those regions, the sodas produced were considered "craft" to that area. Coke, Pepsi, and Dr. Pepper shifted to high volume containers, lighter glass, plastic, and aluminum to change their materials [to be] more acceptable to the masses. After this shift, a void was created and consumers started seeking "The Real Deal" with quality ingredients, quality packaging, and quality flavor. We might be partial, but we believe real craft soda is Boots Beverages!
Q: As craft soda becomes more mainstream, how do you think craft soda brands will continue to set themselves apart from traditional brands?
Parentice: The story behind the brand, and communicating that, is important. Traditional brands can try to duplicate flavor, quality, and all that, but it's the brand's roots, integrity, and the story of why and how the brand was created [that] will cause them to stand out.
Rank: Craft soda brands will continue to create more unique flavors.
Q: How is your brand incorporating the DIY/craft trend into your beverages?
Parentice: We definitely try to pay attention to what our target consumer is interested in, and adjust our marketing strategy accordingly when and how it's appropriate; however, not every trend is going to play a part in our message.
Rank: [Through] mixed/signature drinks utilizing our craft soda, community events, and sponsorships. We have also leaned on restaurant support to help us come up with specialty drinks for adults and children.
Q: What new trends do you think are on the horizon for craft soda brands?
Parentice: At SIPP, we are constantly thinking about innovation and working on developing new and interesting flavor combinations, and we think more unique flavors will be showing up in the market from other brands as well.
Rank: Innovative packaging.
Q: Do you think more companies will continue to gravitate towards the craft soda trend? If so, why?
Parentice: Absolutely. We expect to see craft soda mirror the craft beer industry growth, or at least show a similar track to becoming a large segment within the carbonated soft drink market.
Rank: For a craft soda company to become a national or regional brand, it has some challenges. Large companies like Coke and Pepsi have made it hard to go into market, so it is important for Boots Beverages to have strong elements — like quality ingredients, quality packaging, natural flavors, etc. — to help us be a player in the game.
LAST YEAR IN CRAFT BEER, WHAT THE FUTURE IS BREWING, AND THE TOP 10 CRAFT BEER BRANDS
By "Dr." Bill Sysak, Former Stone Brewing Craft Beer Ambassador, Wild Barrel Brewing Company, Foodable Industry Expert
Last year showed continued growth in the craft beer industry! With 861 new breweries opening across the country at a rate of 2.35 per day, there are now more than 5,000 breweries operating in the United States. This is an all-time high and there is still room to grow, considering that there are over 10,000 wineries in the U.S., almost half of which are located in California alone.
Ninety-nine percent of all the breweries in the U.S. are small and independent craft breweries. These breweries accounted for over 80 percent of all new beer growth. What is truly significant is that of the 861 craft breweries openings in 2016, brewery closures were under 10 percent of that number. Craft beer grew by 8 percent and is holding strong at over 12 percent of all beer consumed in the nation. I strongly agree with the Brewers Association projections that craft beer will hold a 20 percent market share in the next five years.
Let's talk about what else has been happening in the craft beer industry. What beer styles are the most popular? That's an easy one — it is still India Pale Ales or IPAs in its many forms. IRI data shows that IPAs constitute 60 percent of all craft growth. The big boys (you know, the breweries whose mountains turn blue on their cans when you get to near freezing temperatures, or who have big fluffy horses kicking field goals on Super Bowl commercials) have awoken to the popularity of IPAs either by expanding their marketing of their existing versions or going out and purchasing craft breweries who are known for making IPAs.
The hottest trend in IPAs in 2016 was the Northeast style IPA. This style variant cuts back on traditional IPA bitterness and takes advantage of popular hops with fruit notes like Citra, Mosaic, and Galaxy. Many versions even have fruit added and almost all of them are turbid. Brewers across the country are now brewing this style of IPA.
Other styles that continued to show strong growth are part of the transitional or gateway category — beer styles that are perfect for converting the BMC (Bud, Miller, Coors) drinkers to craft beer. These styles represented 30 percent of craft beer's growth and are made up of Blonde/Golden ales, Pilsners/Kolsch's, wheat beers like Wit's and Hefeweizens, and a category known as "other pale lagers." These styles will continue to grow as they have enough complexity to satisfy experienced craft beer drinkers yet are subtle enough to not send a PBR drinker running for the hills.
Other style categories that will continue to grow but to a much lesser degree are barrel-aged and sour beers.
As I mentioned above, the brewing giants, particularly AB InBev and MillerCoors, were busy in 2016 purchasing more craft breweries. AB acquired its eighth and ninth craft breweries Virginia's Devils Backbone and Karbach brewing out of Dallas, Texas. MillerCoors picked up Oregon-based Hop Valley Brewing, Revolver Brewing in Texas, and now has a majority share of Terrapin brewing out of Athens, Ga.
Of course, AB InBev's biggest purchase of the year the $107 billion acquisition of SABMiller was finally approved, making it the largest brewing concern in the history of the world.
Top 10 Craft Beer Brands
Now back to good beer! We saw a tremendous amount of growth in craft beer, but which brands rose to the top? Time to crack open those bottles — Foodable Labs presents the Top 10 Craft Beer Brands! Foodable Labs, powered by the Restaurant Social Media Index (RSMI), indexes over 167K restaurant and hospitality brands, 240K foodservice terms, and 220MM consumers to provide global industry insights. Based on operator and consumer sentiment — meaning all were picked by data, not editorially selected — here are the Top 10 Craft Beer Brands before we dig a little deeper into the top five.
| RANK | Restaurant | Score |
| --- | --- | --- |
| 1 | Firestone Walker Brewing Company | 156.31 |
| 2 | Russian River Brewing Company | 155.67 |
| 3 | 3 Floyds Brewing Co. | 152.38 |
| 4 | Lagunitas Brewing Company | 152.33 |
| 5 | New Glarus Brewing | 151.49 |
| 6 | Brooklyn Brewery | 151.46 |
| 7 | Dogfish Head Brewery | 151.46 |
| 8 | Chimay Brewery | 151.44 |
| 9 | Hill Farmstread Brewery | 150.39 |
| 10 | Magic Hat Brewing Company | 150.38 |
Top 5 Craft Beer Brand Breakdown
By "Dr." Bill Sysak, Former Stone Brewing Craft Beer Ambassador, Wild Barrel Brewing Company, Foodable Industry Expert
Firestone Walker Brewing Company | Overall Score: 156.31
Coming in at No. 1 with an overall rating of 156.31 are my good friends at Firestone Walker Brewing Company in Paso Robles, Calif. The founders David Walker and Adam Firestone made a strategic move in the summer of 2015 by signing a partnership with Belgian brewer Duvel Moortgat, allowing Firestone continued growth without compromising its core values. Firestone has been a powerhouse in the craft beer industry for many years.
Their master brewer, Matt Brynildson, probably the most awarded craft brewer over the last decade, continues to oversee their beer program from their classic lineup, to 805 the 4.7% blonde ale that has swept across the country like a wildfire converting legions of fizzy yellow beer drinkers to craft beer. Their sour beer program Barrelworks located in Buellton is a state-of-the-art facility producing amazing California Wild Ales.
Russian River Brewing Company | Overall Score: 155.67
Number 2 on Foodable's list is my all-time favorite American craft brewery, Russian River Brewing Company out of Santa Rosa, Calif., with a score of 155.67. I've been friends with Vinnie (The Hop Father) and Natalie Cilurzo since I started visiting Vinnie's first brewery Bling Pig Brewing Company in Temecula when it opened in 1994. Vinnie is widely acclaimed as the creator of the first Double IPA or DIPA, and his Blind Pig, Pliny the Elder, and Pliny the Younger IPAs are legendary. Vinnie makes very clean dry beers that are loved by hop heads and beginners alike.
He was one of the first producers of sour beers in America, and his first release, Temptation, a golden ale aged in Chardonnay barrels, is still my favorite. Even though he is known for his IPAs and sours, he makes an excellent range of sessionable beer styles that you can only get at the pub in Santa Rosa. Vinnie and Natalie finalized the site for their new production brewery last year in Windsor, which should excite beer fans everywhere as it will allow them to more than double their production over the next few years.
3 Floyds Brewing Co. | Overall Score: 152.38
3 Floyds Brewing Co. of Munster, Ind., is Foodable's No. 3 brand with a score of 152.38. Last year, we saw 3F celebrating their 20th birthday. Started by brothers Nick and Simon with their father, Mike, they are known for making big, aggressive beers. Most notable in their lineup is Dark Lord, a huge imperial stout that they have been bottling since 2004. So sought after is this beer that 6,000 plus fans come out every year to celebrate Dark Lord Day.
Lagunitas Brewing Company | Overall Score: 152.33
In fourth place with a score of 153.33 is Lagunitas Brewing Company out of Petaluma, Calif. Lagunitas is no longer considered a craft brewery since their founder Tony Magee sold a 50-percent stake in the brewery to Heineken in 2015, but their brews are still worth celebrating.
New Glarus Brewing | Overall Score: 151.49
The No. 5 spot is held by New Glarus Brewing from Wisconsin with a score of 151.49. Started by Dan and Deb Carey in 1993, they are known for making a number of eclectic beers, but what is truly unique about them making this list is that they are only distributed in the state of Wisconsin. Dan has been quoted as saying "World domination is not our goal." If you do get the chance try their beers, I recommend the Spotted Cow Cream Ale.
Final thoughts: Thank you to Bart Watson, Chief Economist for the Brewers Association for several of the statistics used in this piece, and with over 5,000 craft breweries and counting, 90 percent of Americans live within 10 miles of a craft brewery. Continue to drink your favorite beers from around the country, but go out and discover your neighborhood brewery. Support them if you like what you try and drink local!
Big or Small Beverage Brands? When It Comes to What They Drink, Millennials Just Want to Keep It Real
At some point in the very near future, millennials are going to throw up their hands in frustration and say "Stop trying to define us!" Brands of all ilks would do well to take notice. While it's true that millennials are growing into the largest generation of consumers in history, their habits of consumption cannot be lumped into a single definition. In the broader context, they seek out that which is authentic and has relevance not just to their generation but to them as individuals. While one might think these 21 to 34 year-olds would only gravitate toward "craft" products, the truth is that "craft" is an amorphous term, and brands large and small can tap into this zeitgeist with the proper approach. Bottom line — millennials want stories and, if the story is genuine, size doesn't matter.
Let's first consider what the term "craft" actually means. Merriam-Webster offers this concise definition: "an occupation or trade requiring manual dexterity or artistic skill." Let's look at the term artisan for good measure. Merriam-Webster splits the difference on this one, saying the word can mean "a worker who produces a trade or craft" and also "a person or company that produces something in limited quantities using traditional methods." Fair enough. But, as many people have noted, these two words have been bandied about to such a degree that they have almost lost their meaning. Slap the word "artisan" on a product and it suddenly seems to have a certain mystique.
Because of this, millennials are starting to look beyond such labels and favoring brands that are able to speak to them experientially and tap into their technologically-savvy, environmentally-minded, value-conscious view of the world. In a recent article about millennial consumerism, Interbrand said, "Size is not a de facto disadvantage amid the huge spread of alcohol brands… To reach a wider audience and raise the premium value of their brands, many brewers and distillers are making plays to establish themselves as more than just drink makers, pulling on their status as culturally and historically relevant institutions and creating interactive experiences and spaces to win customers' hearts and minds."
Among the brand examples they cited were Corona for its beach preservation initiative "Movimiento Playa Corona" and Moet & Chandon's "The Now" campaign, which encapsulated #MoetMoments. The secret being discovered by bigger brands is that their size isn't the issue. If they can answer the question "Why should you matter to me?", they can win the hearts and minds of millennials.
Sometimes the "why" is as simple as offering a unique perspective, such as distinctive, new flavors; other times, it's much grander, emphasizing strong values and cultural relevance, such as a brand's history and activism. And sometimes, it's just about having fun in a way that makes them feel special.
Bacardi tapped into this "fun" element with their Bacardi Triangle, a three-day music festival (held in 2014, 2015, and 2016) held on an exotic Caribbean island in the midst of the Bermuda Triangle, to which press, VIPs, bloggers, and other influencers were invited. The estimated reach of the 2015 event, which included a global syndicated broadcast and numerous blog posts, selfies, and videos, was upwards of six million people. In the case of Bacardi, one of the big guys, this bespoke adventure hit home, becoming the largest brand experience the company had ever held.
Last November, Ketel One launched a new campaign targeted at millennials with the themes of tradition and legacy. To express this message, Ketel One created a series of eight films that launched on TV networks and online. Reinforcing their progressive point of view, Ketel One also released a virtual reality experience that plunges the viewer into the heart of Ketel One vodka, inside the Nolet distillery, on the streets of Schiedam, or at the bar with master mixologist Dale Degroff. It is the ideal merging of technology and experience to tap into the millennial model.
For 2017, Campari has launched a monthly short film series, reminiscent of their Campari calendar. The films follow the theme that "every cocktail tells a story." Again, the concept zeroes in on the millennial need to connect through experience and authenticity. All of these films will be on YouTube, among other outlets, catering to the social media aesthetic of this generation.
For the craft brands, whose advertising budgets are often nonexistent, one of the best ways to distinguish themselves is to embrace their locality. Whether it's because technology brings us all together or drives us all apart, millennials crave intimacy in a brand. This is one of the reasons we are seeing a continued trend toward small, local distilleries that source their ingredients within a tight radius and appeal with a homemade, small town persona.
Backwards Distilling Company out of Wyoming has done this with their whimsical bottle art that has a retro, carnival feel to it. The playful, embellished labels with names like Contortionist Gin and Sword Swallower Rum invite the consumer to dive into the "Backwards Realm" inspired by "carefully orchestrated chaos." Pennsylvania-based Revivalist Botanical Gins, whose labels are designed to resemble mandalas, offers four botanically specific expressions titled Equinox, Summertide, Harvest, and the Solstice. Each name suggests an experience in a bottle.
However, being "craft" isn't enough. Aaron Bergh, a millennial himself, is the owner of Calivore Spirits, an upstart Central California spirits company that makes small batch gin, rum, and vodka. While Bergh sees his fellow millennials turning their backs on big brands in favor of craft products, he also sees an inherent problem.
"It's getting to the point where craft isn't enough," Bergh said. "Now anyone can be craft. All you have to do is go to MGP and order some whiskey in bulk. Now it's all about buying local, supporting products that were crafted by your community, and building the local economy instead of lining the coffers of overseas companies."
How the craft versus macro-distillery battle plays out remains to be seen.
Each generation is shaped by the world around them, the way they are parented, and their access to technology. Millennials were born into a global economy with a sense of entitlement and an ingrained understanding of and need for technology. They buy based on the recommendations of friends and the information they find on the web. They seek out ways to make their lives richer, which is less about having and more about doing or feeling. The latter elements are the road map for any brand, big or small, to reach this audience.
The millennial seeks to differentiate him or herself through personal connection and experience. It is as if they feel that every moment must mean something and therefore everything in their lives must have meaning. Given this fact, any brand, large or small, has the ability to capture this eager generation. If you have an honest, authentic story, they will buy.
About Foodable Labs
Foodable Labs — powered by the Restaurant Social Media Index (RSMI), which has indexed 21K+ brands and 240K+ foodservice terms for almost a decade — provides global industry insights and one-of-a-kind overviews on chef, operator, and consumer-behavior trends. Our multiple reports and insight centers are focused on key-industry terms and trends driven from the most expansive social data.
About Foodable Network
Launched in September 2013, Foodable Network is a media organization founded by restaurant industry publisher and producer, Paul Barron. With the largest social media audience and reach in restaurant trade, Foodable reaches chefs, operators and brands nationwide and internationally in Canada and the U.K. through broadcast-quality production, strong editorial content, the Foodable Top 25 rankings, reports and insights, the Foodable Annual Tech Guide and events such as Foodable.io. Visit us at www.FoodableTV.com.