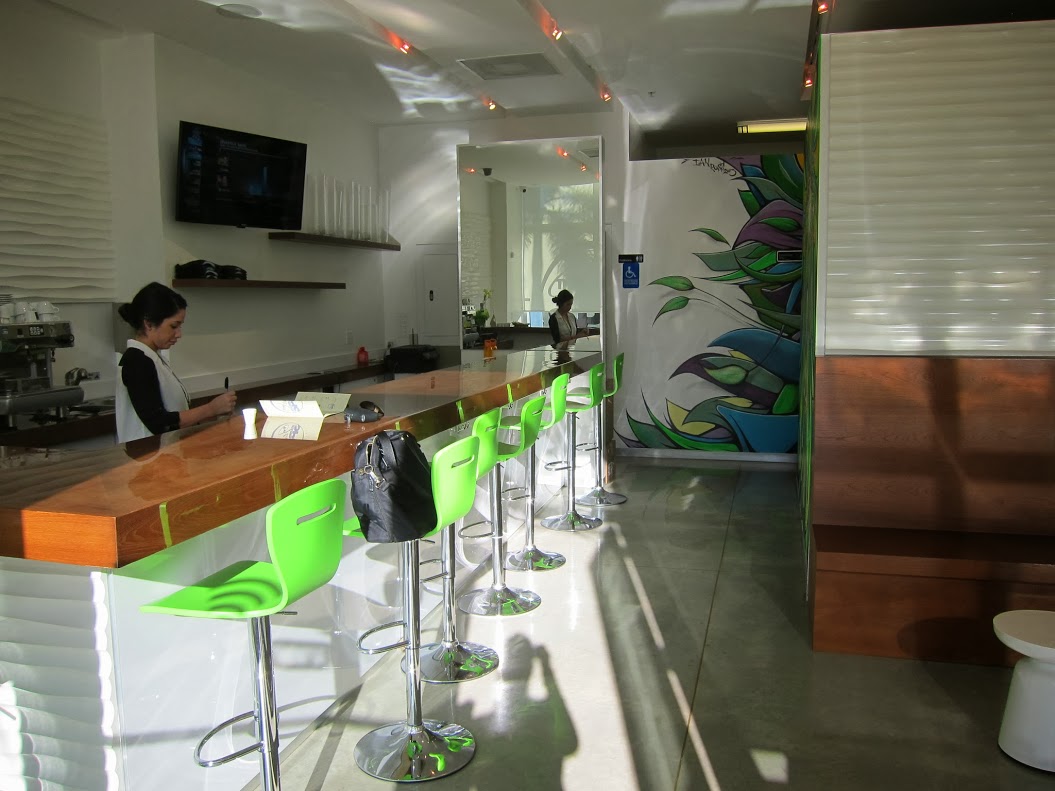 Just checking in on your New Year's Resolutions. (Oh yeah, remember those?) No biggie, here at Foodable we plan to re-inspire you to kick one particular resolution back into gear. And that's juicing. No, not steroids – we're talking about the clean, cold-pressed stuff.
Jugo Fresh has been on the Miami scene since 2012, serving up a variety of cold-pressed juices, and as time goes by, we're seeing even more juice stores and offerings roll in.
Juices have always been apart of the Latin culture, so juice is nothing new to Miamians, but what places like Jugo Fresh are offering is different than your average jugo de guanabana. Jugo Fresh sells freshly made juices such as the detoxer called "Saca Lo Todo" which is made up of lemon, lime, H2O, turmeric, cayenne and raw honey. Or the"Green Montaña" which has cucumber, romaine, pear, kale, chard, ginger, lime, and Himalayan sea salt.
Aside from the diverse selection of juices, Jugo Fresh also offers a selection of bowls, like the Pumpkin Spice Bowl, as well as sprouted bagel sandwiches, salads and tapas like the Indonesian almond kelp noodles. Say THAT five times fast. But what Jugo Fresh is most proud of is their process for creating the juice: cold-pressing.
The Cold-Pressed Way
Cold-pressed juice is a system for producing juice that reportedly maintains nutrients by pulverizing the fruit or vegetable and extracting the juice without subjecting it to heat. Heat, it's been said, removes some of those nutrients in other systems such as blenders or centrifugal juice extractors.
Once the folks at Jugo Fresh have pulverized the entire fruit or vegetable, the remains go into microfiber bags, which are then pressed under two tons of pressure to completely extract all the micro-nutrients and enzymes from the cell walls. This is said to allow your body to work less in the absorption and processing of the nutrients, allowing you to fully enjoy the benefits of those healthy nutrients.
Juice Stores are Sprouting Up
Jugo Fresh currently has locations in South Beach, Wynwood and Coconut Grove, with plans to expand to a few other locations within the next year.
A new kid on the block is The Juice Spot, opened by Mrs. Lebron James. Located in Brickell, the cold-pressed juice and wifi bar was recently opened by Savannah James and her business partner/personal trainer, David Alexander. The Juice Spot has become a showcase of their lifestyle, as well as that of many of the Miami Heat players. There have been numerous benefits attributed to juicing, so it's no surprise that many of our Miami Heat athletes include it in their diets.
The Juice Spot offers a curated selection of juices put together based on the owners' research and experience at juice bars across the U.S., like the "Smooth Hydrator," which consists of pear, coconut H2O, celery, aloe and parsley. Customers can enjoy free wifi and complementary iPad stations set up around the bar, or they can admire the custom artwork by Ian Ross, a muralist from San Francisco.
Whether it's a new years resolution or not, investing in cold-pressed juices is habit that everyone should consider. Well, it certainly can't hurt.