Sustainable (adj): able to be used without being completely used up or destroyed; involving methods that do not completely use up or destroy natural resources; able to last or continue for a long time.
Though Merriam-Webster's definition of sustainable seems clearcut, it's far from such in modern-day culture. Sustainability is becoming a concept vastly explored within the foodservice industry, and while its meaning can be interpreted differently throughout society, it has undoubtedly – within the past couple of years – become a buzz word. For some restaurants aboard the hype train, its meaning seems to have become parallel to claims like "organic" and "natural" – obscurely defined and not always delivered accurately. But the true sustainable gems exude passion, where a restaurant is not just a venue, but a reflection of a lifestyle. Where the chair you're sitting on has probably been recycled, and each ingredient you consume can be pinpointed of its origin. Where bigger isn't always better because less is more.
New Wave: A Shift in the Restaurant Industry.
As per the American Public Health Association, when it comes to food systems, a sustainable one "provides healthy food to meet current food needs while maintaining ecosystems that can also provide food for generations to come with minimal negative impact to the environment." Nowadays, this concept can also branch out to store design and other facets within the restaurant that promote sustainable practices.
Chipotle may have been a big factor in bringing a new wave of awareness to the American masses with its "Food With Integrity" mantra. Under this motto is the promise to customers that all pork, chicken and beef served by the chain is 100% naturally raised. According to its website, Chipotle works closely with "farmers and ranchers to ensure their operations create as small an impact as possible on the environment." Aside from its food, Chipotle was also the first restaurant ever to receive Platinum level LEED certification. Don't get us wrong: sustainable practices within the restaurant industry have been around for quite some time, but Chipotle made this mentality a more accessible one to the general public.
In the restaurant industry, microbrands – concepts, typically small chains, that are grouped in a particular region that base the consumer experience primarily around location – and small kingdoms – independent restaurant groups that grow their ecosystem within a local market – are popping up in food cities all over the U.S. Larger chains are feeling the heat because of scalability issues, among other things, and the local players with enough of a foundation and consumer sentiment are rising in the ranks. And guess what several of these restaurants and small chains are providing consumers that the "big guys" can't? That's right: local, organic, sustainable. They are able to cater to what consumers want: transparency, healthy options, fresh ingredients, and a sense of community.
How Sweet It Is.
Sweetgreen is one brand in particular that has been on our radar for a while now. The salad-heavy chain was the brainchild of three Georgetown alums in 2007, and really rings true to the sustainable lifestyle. In fact, when the boys first set off on their venture – while they were still students, mind you – they would make it a habit to frequent farmer's markets, get a taste of the local produce, and build connections with local farmers. Eventually, this networking would pay off. The success of Sweetgreen has become so prominent that in December 2013, three notable investors invested $22 million into the brand. It's been reported that Sweetgreen will use the funding to open more locations to reach more people, add more tech into the Sweetgreen experience, and create a platform called FarmersWeb that will "manage its supply of local produce sent to its different regional locations," reported TechCrunch.
Sweetgreen infuses its five core values – which includes "think sustainably: make decisions that you know will last longer than you will" – into each aspect of its business. Sweetgreen sources "local and organic ingredients from farmers we know and partners we trust." As for transparency, Sweetgreen features video footage on its website that gives a behind-the-scenes look at where the food you're eating comes from. Aside from the food, Sweetgreen aims to preserve and expose the natural structure of each building they reside in, no matter how expensive, and use reclaimed finish materials in each location. Sweetgreen is based out of D.C., but currently has locations scattered throughout the northeast.
Tender Greens (various locations in California) and Joe's Farm Grill (near Phoenix, AZ) are two other sustainable-rich outposts that are worth checking out as well, just to name a couple.
The Herbfarm: Tried & True.
As was mentioned above, sustainable practices within the restaurant industry aren't exactly a new phenomenon. The Herbfarm, located in Washington and helmed by husband-wife team Ron Zimmerman and Carrie Van Dyck, is proof of that. The restaurant works with an extensive array of local farmers, fishers, foragers, and ranchers.
With a long-running list of accolades, including being the only 5-Diamond restaurant in the Pacific Northwest, The Herbfarm officially came into fruition in 1986, an extension on Zimmerman's parents' home. The home had an on-site herbal nursery that his mother would sell herbs from years earlier – at first, with no intention of making it into a business endeavor.
The Beginning.
Zimmerman and Van Dyck, who turned the venture into a restaurant and worked as chef and host, respectively, launched a 6-course meal education luncheon program that first year – over 20 years ago! It fared exceptionally well. In between that time and 2001, The Herbfarm team went through a handful of trials and tribulations, including a fire in its original location. But they stuck with it. "Yes, there have been plenty of bumps over the years. I suppose we might have thrown in the towel many times. But frankly, this is not a "concept" for making money. It is our life, and as such, we do it for our own enjoyment, as well as in the hopes that our guests will find it one of the most memorable evenings in their lives," said Zimmerman.
From foraging to a nearby farm and seasonal menus, The Herbfarm offers 9-course dinners each night at 7 p.m. (except for Sundays, with dinners kicking off at 4:30 p.m.) that last between 4 and 4.5 hours. "While this may seem long 'on paper,' the time goes quickly," noted Zimmerman. "Since we don't turn tables, there is no rush or hurry to get you to leave. The night and the table is yours."
He walks us through a typical dinner service.
"As our guest, you pass our Kitchen Cutting Gardens and under an outside awning. The front door opens to a vestibule with a fountain and then another door opens to our Salon with a greeting fireplace and a welcome from our staff. You will be offered a non-alcoholic greeting beverage, the flavor of which changes nightly. Perhaps it is local cider imbued with fresh leaves from our bay tree. Or medlar (Mespilus germanica) juice with Madrone (Arbutus menziesii) bark or rose blossom and tuberous begonia petal tea.
Dinner that evening will be nine courses with six matched Pacific Northwest wines (foraged and hand-crafted non-alcoholics). All of the ingredients we use – every last ingredient, even the salt – are sourced from the Pacific Northwest, essentially Oregon up to Southeast Alaska. We don't use local ingredients "as much as possible." If it doesn't exist, we don't substitute, we do something else.
Before dinner, Carrie [Van Dyck] takes our guests out into the adjacent gardens to meet many of the herbs and ingredients that will appear on the night's menu. They will sniff and taste the leaves straight from the plants. They will also meet our two little potbellied pigs, Basil and Borage, whom they may revisit during dinner to feed from a little snack bucket.
Back in the main dining room, after the first course is served and eaten, we draw a curtain on the open kitchen "stage" and the chef, sommelier, and I spend 15 minutes or so going over the nightly lineup of food and wine. If wild mushrooms are on the menu, we would show examples of Lobster Mushrooms and Matsutake, etc., so that everyone can see and understand. Most of the vegetables and all of the eggs will have come from our farm (1 mile away) that day. Last August, 100% of what we served from the plant kingdom came from our farm or was wild foraged by our staff."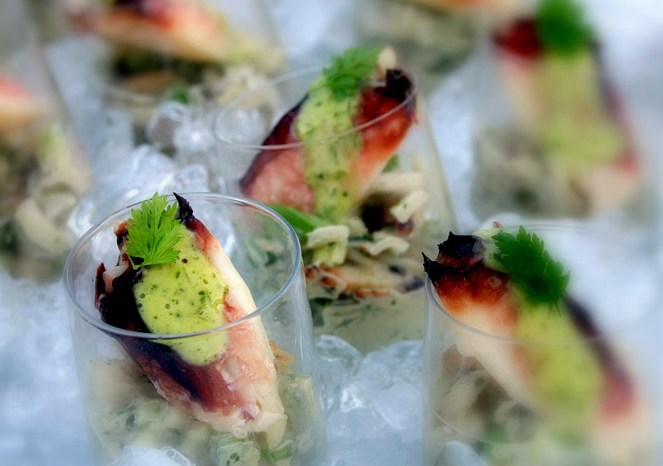 In Transition.
Zimmerman says he never thought sustainability would become as big of a movement in the restaurant industry as we know it today. And of his own practices, he claims he and his wife keep getting better at integrating sustainability into other areas. Their farm tractor runs on used oil from their kitchen. They recycle kitchen scraps back to compost and food for their chickens. They forage wild greens and mushrooms, ferment their own miso, cure Oregon olives, churn their own butter, and bake their breads with yeast in ovens heated by local apple wood, among several other things.
So, what advice would Zimmerman give to restaurant operators or chefs who want to make the transition into becoming more sustainable?
"A restaurant like ours needs real chefs and cooks who can create and adapt on a daily basis. We do not cook with recipes; we talk about how we will create a dish and then do the execution of it. So, from the standpoint of being a true restaurant working with daily ingredients, one needs skilled and passionate chefs with real talent and understanding of food."
Becoming the Movement.
We may not all have the means, the time or the willpower to live a completely sustainable lifestyle, but we have options – options in where we dine and in what we eat, for example. Sustainability has become an integral part of the conversation in foodservice, and more people – consumers, restaurateurs, chefs, suppliers – are becoming a part of it. In the broad spectrum of things, it's quite amazing how we've come so far over the years. But, of course, there's still a ways to go. In a tech-heavy world where people are constantly glued to their smartphones, food seems to be one of the things that will always connect us. Movements like sustainability are similar, whereas they connect people through food. In January 2014, McDonald's announced it would start using sustainable beef patties in 2016. And while there are definitely some huge doubts (how is a huge brand going to scale that?!), at least they're trying. Because being "sustainable" isn't about being the best – as the co-founders of Sweetgreen have said, "It's creating something where passion and purpose come together."