I recently skimmed across a TED headline on Twitter: "Why mayors have more chance of saving the world than global leaders do." Without clicking, I could almost assume the answer was something along the lines of having more impact on a smaller focus group, audience size – whatever you'd like to call it – in comparison to spearheading a mass of people. It goes back to the whole "small fish in a big pond vs. big fish in a small pond" mentality. Though this doesn't always hold true when it comes to the mayor vs. global leader debate, the framework of the thought absolutely holds true when looking at the modern-day culinary landscape.
If you look closely, microbrands, which follow this same mentality, are popping up all over the place. Microbrands are typically a restaurant chain, grouped in a particular region, that bases the consumer experience on location. This means that, while a restaurant's branding is essentially consistent throughout each outlet, there are certain quirks in each of its locations specific to that location that differentiates the experience. Brands that can be replicated, but are not exactly the same. Microbrands often want to give guests a different experience in each outlet to cater to the local market, or at least show their pride of such.
Earlier this month, we sat down with Erik Oberholtzer, Co-Founder/Owner of California-based fast casual Tender Greens to talk about challenges, inspiration, and what the future holds for microbrands. With 12 current locations, Oberholtzer and his team, including co-owners Matt Lyman and David Dressler, aim to make each location unique to the neighborhood it serves.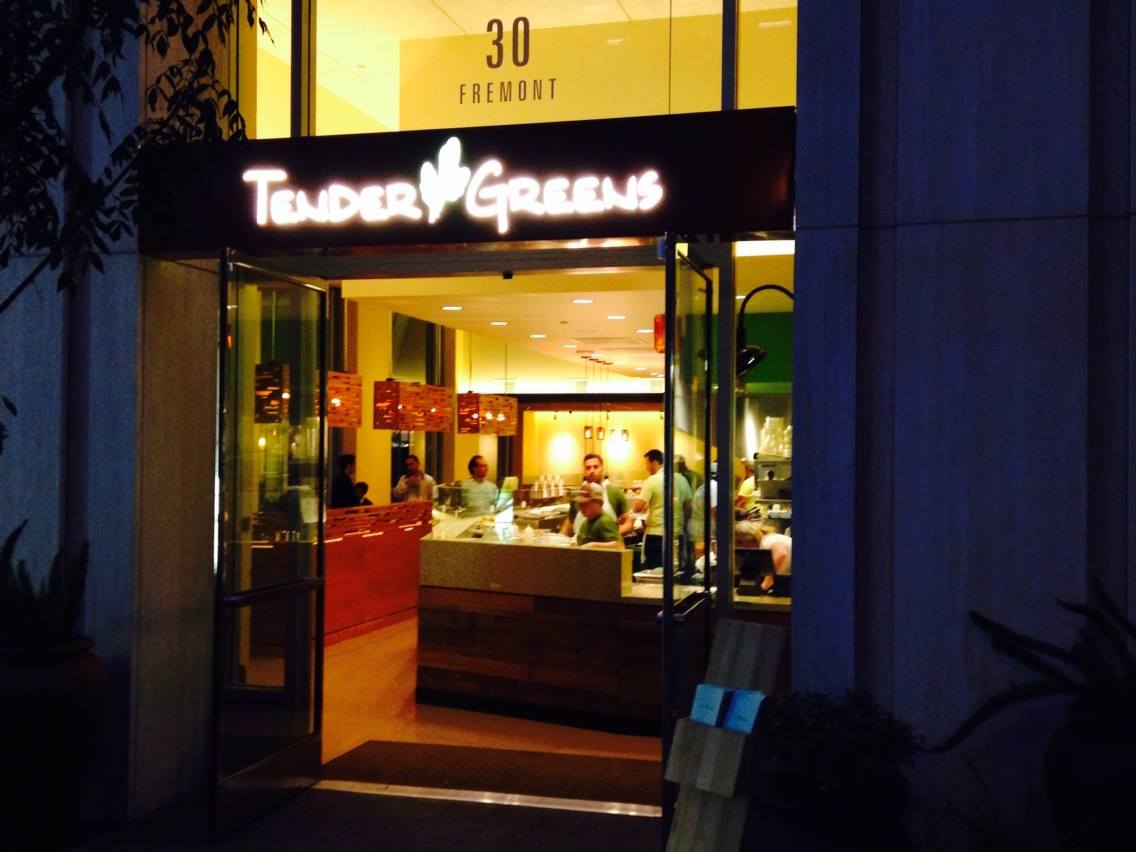 Q: What are the key challenges in creating a microbrand experience?
Erik Oberholtzer: Stay focused on key differentiating qualities that matter most to your local demographics.
Q: How do you balance making each location its own, while at the same time having to scale up (i.e. menu, management team, supply chain, etc.) the creative brand experience?
EO: The design of the store always feels like a Tender Greens, but never cookie cutter. We select unique artwork to display at the restaurants that fit with the neighborhood. For example, in San Diego we work with local artist Nan Coffey, who creates custom pieces for us. At our Pasadena location, we commissioned artist Chris Reccardi to capture vignettes of Pasadena's people and places in his own style. In addition, each Tender Greens location has an executive chef who drives the store's creative energy, vibe and community participation.
We offer a core menu supported by our farm network that offers approachable items people are familiar with without being ordinary. This keeps us consistent. The specials change each meal period and are created by the chefs at the store level. Innovation comes from the store level with best ideas shared across the brand. We buy locally whenever possible and control the quality bar so there is never dilution of brand.
Chefs have freedom to work within that product quality bar or higher so we continue to evolve and source new and exciting ingredients. The key to our success is protecting our standards, hiring the best people to guard them, while setting the occasion for new ideas within the context of Tender Greens.
Q: It's very clear that consumers are migrating to microbrands. Do you feel these unique experiences are a fad or is this the new model for restaurant operators to create unique experiences under each brand entity?
EO: I believe this is a reaction to the homogenized food offerings of the past two decades. People are looking for unique experiences reflective of their lifestyles. California is much different than the Carolinas. We see this in our politics, shopping behaviors and food choices. I believe this will continue to evolve regionally the way "regional American cuisine" developed in fine dining in the 80s and 90s with celebrity chefs and organic farmers.
Q: What inspired you to create Garden, a similar concept to Tender Greens [but with locations only in airports]? Why not just bring additional Tender Greens locations into the airport?
EO: The airport is unique and requires a unique approach. We are reacting to a "very local" dynamic here. A Tender Greens restaurant did not fit the airport model, so we created something that does. We also are unwilling to license Tender Greens. That said, HMS Host has been a great partner and we hope to continue to pursue other opportunities with them.
Q: What's the biggest pull in separating yourself from other microbrands, like Sweetgreen?
EO: Sweeetgreen has been very smart and authentic about their brand messaging. We follow them for this reason. Their menu is more limited and less focused on "chef talent." They are smart guys out of Georgetown with a great business model.
We are chefs with a restaurant that will continue to innovate from the kitchen. We differentiate ourselves with our chefs, farmers and menu mix. I believe our proteins cooked to order and specials give us an advantage over other brands. We're not just a salad restaurant. We believe in slow food done fast and making real, good, whole food available to everyone at an affordable price.