Finally, Culver City is holding its own as a viable cocktail and foodie locale with new hotspots, like The Wallace and standbys that include Seventy 7, Oldfield's and Blind Barber. In fact, there's so many to choose from, a proper bar crawl or progressive dinner is in order.
Here's where to drink now in Culver City:
The décor is a time warp back to junior high summer camp, but the cocktails are anything but kiddie-campy. Ok – the names are, such as cult classics Girl Scout Cookie and Toasted Marshmallow - but the potency is not. Happy hour is really happy here: 7 days a week, $5 craft cocktails. Plus, check out the elaborate shot back menu, including favorites like the Thai Treat of rum, coconut water and Thai bitters.
What to Drink:
Barrel Aged (6 weeks) Vieux Carré
Rittenhouse Rye, Carpano Antica, Sweet Vermouth, Peychauds, Angostura bitters, Benedictine
Penicillin
Famous Grouse whisky, fresh pressed lemon juice, honey reduction, housemade ginger syrup, spritz of smoky Laphroaig Scotch
What to Nosh:
Housemade pickles or Empanadas from Venice Bakery from Wednesday thru Saturday, 5–9 p.m.
Where else can you get a spiffy cut-and-cocktail combo? Head for the utility closet door in the back of the barbershop. Follow the hallway and down a set of stairs. Voila! – a cozy, hidden back bar awaits, featuring roughly 10 cocktails: 5 seasonal and 5 Blind Barber staples.
What to Drink:
Cowboy
Hendrick's Gin, lime, green olive, pepper, amber agave
Sweeney Ted
Jameson Irish Whiskey, lemon, honey, egg white, Creole bitters
What to Nosh:
Truffle popcorn or Sloppy Joe sliders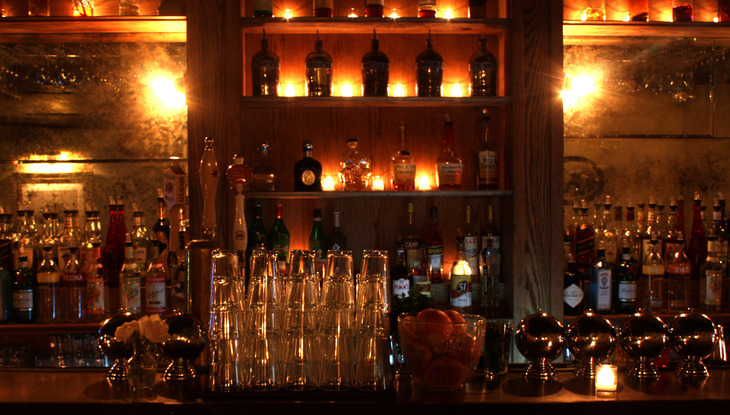 Opened in late January in the heart of downtown Culver City, East Borough serves up French-Vietnamese comfort food like pho-baguette and bánh xèo (Vietnamese crepe). This second EB - the first in Costa Mesa - is a collaboration of chefs Jason Neroni (Superba Snack) and Chloe Tran. Drinks highlight Vietnamese flavors much more than French. Mocktail offerings are stellar: blood orange cinnamon soda, pineapple basil soda, egg crème soda, and more.
What to Drink:
Saigon Soda
Gin, kiwi vinegar, lime, Thai basil
The Golden Axe
Rye, dry vermouth, ginger, lemon, mint
What to Nosh:
Pork Shank lettuce cups or Bao Buns with glazed pork belly
Recently celebrating its one-year anniversary, the combination of a creative farm-to-table menu and craft spirit cocktails, designed by Beverage Director Sarah Kay Godot, is still a favorite in Culver City's Arts District with a robust happy hour menu to boot.
What to Drink:
H.S. Thompson
Spiced rum, green bar orange, lime, ginger, cardamom & star anise
Manhattan Transfer
Bourbon, sweet vermouth, bitters, pomegranate, candied ginger, Meyer lemon zest
What to Nosh:
Happy Hour bites like Chicken Fried Bacon or Venison Corn Dogs
With its back-alley location and only a glowing red "Cocktail" sign as a marker, entering the posh, Parisian-styled lounge is a welcome relief surprise. It requires a password to enter, but simply follow them on Twitter for the magic word. But it's not all shtick, no substance. The drinks, designed by Randy Tarlow, are tasty and the ambience is seductive. Hot tip: Use the hashtag #Seventy7Lounge in a tweet. Show the bartender for $5 specialty cocktails all evening long.
What to Drink:
Scarlett Johannson
Citadelle gin, absinthe, strawberry, Rosé champagne, lemon
Handsome Sour
Atlantico rum infused with Handsome coffee beans, lemon, Angostura, ouzo rinse
Opened late last year by Chef Michael Teich (formerly of Axe and SBE) and hospitality maven wife Carol, The Wallace's menu has filled a gap in the CC dining scene: playfully simple yet elegant farm-to-table fare. And since the space is more bar than restaurant, it makes for an ideal stop for an after-work hotspot with a group. Designed by Holly Zack, cocktails (either shaken or stirred options) are deliciously innovative, utilizing craft spirits and fresh ingredients.
What to Drink:
Early Ace
Damrak gin, Earl Grey, lemon, egg white, pistachio foam
Fun Flask
Coffee-infused scotch, Cognac, honey syrup, chocolate chili bitters
What to Nosh:
Piping hot Parmesan popovers or Kennebec potato chips with onion blue cheese dip
Other favorites in Culver City for stellar cocktails and nosh include Corner Door, Oldfield's Liquor Room, A-Frame, Waterloo & City, and Ford's Filling Station.
Oh, if these walls could talk. This historic hotel, opened in 1924, housed nearly every star in Hollywood in the early 20th century. Head to the upstairs bar for some liquid entertainment – bartenders are known to throw glasses around, à la Tom Cruise in the movie 'Cocktail.' Daily happy hour in the lobby bar is from 4–7 p.m.
What to Drink:
Stick with the classics, like a stiff Martini or Manhattan.
What's your go-to spot in Culver City for cocktails?