By Foodable Contributor Jessica Patiño
You may not have noticed, but you're craving more feta. Lucky for you, there happens to be a surge in Mediterranean restaurants in Miami. They aren't completely dominating the culinary scene — we'll leave that to the Peruvians and the Cubans — but they are starting to make their mark.
New Kids on the Block
Several spots have opened up in the past year, including Kouzina Bistro, a romantic Greek haven perched right on NE 2nd Avenue. Upon entering the restaurant, guests are welcomed by a comfortable atmosphere with plenty of space and seating for large groups. The twinkling lights, seating lined with pillows, lush greenery, and an inviting staff give you just what you need to pretend you're in the Greek Isles. Kouzina also offers unique menu items such as their Fried Keftedes — juicy fried meatballs stuffed with feta and mint, Ouzo Shrimp — shrimp deglazed with ouzo, fennel and Greek green olives, or their Pickled Octopus, pickled with Greek vinegars and herbs, sun-dried tomato, capers and olive salsa.
If you're looking for more of a quick, healthy bite, check out the recently opened Eat Greek off Alton Road in South Beach. Quickly becoming a local favorite, this quaint restaurant boasts hearty meals that blend Greek and contemporary foods. Take their Grilled Loukaniko Hot Sub — grilled pork sausage lovingly prepared with Greek seasonings and topped with fresh vegetables on a hot sub hoagie roll or their unique Skepasti Pitas, which most would consider a pita quesadilla.
Soon to open is Lokum Mediterranean Bar & Grill, located on Alton Road and Lincoln Road. While still under construction, the restaurant will soon be serving up traditional Greek and Turkish dishes, along with a full service bar.
Across town, Pita Bites opened this past year serving up falafel pitas, salads, kabobs and even Egyptian rice pudding. Placing more of an emphasis on Lebanese influences, this lunch retreat is conveniently located on Miracle Mile.
Other recent restaurants include Mina's Mediterraneo, which will soon be offering $20 bottomless mimosas and bellinis for brunch. (Who needs ouzo?) They also offer a robust menu with everything from lentil soup, to muffuletta, to moussaka and even a Greek noodle bowl.
Want to become your own pita master? Check out Gyroville, located in Kendall, where you can a build-your-own pita, salad or wrap. The casual restaurant also prides itself on modern recipes, such as their Athena sandwich — chicken on a pita with BBQ sauce, pineapple, cheese, lettuce, tomato and Mediterranean mustard.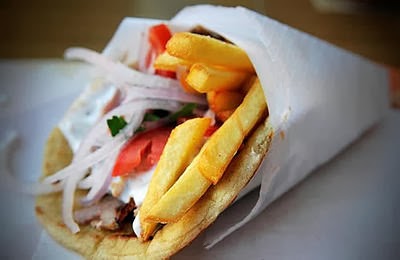 The Not-to-be-Forgotten
Let's not forget about our favorites that have helped build our Mediterranean culinary foundation:
Mandolin Agean Bistro in the Design District, which combines the traditional cuisines of Greece and Turkey.
Poseidon in South Beach uses their own family olive oil imported from Greece.
Estiatorio Milos in South Beach offers fresh fish and upscale design.
Daily Bread in Coconut Grove and Pinecrest also has a Mediterranean market.
Maria's Greek in Shenandoah is a lunch crowd favorite.
Egg & Dart in Buena Vista offers bottomless mimosa brunch.
Opa Taverna, now in Brickell, is known for its patrons dancing on tables.
With such an array of Mediterranean selection, one shouldn't have a hard time satisfying their craving for gyros or spinach phyllos.