By Lanee Lee, Foodable Contributor
Melrose Umbrella Co., the much-anticipated neighborhood bar on Melrose Avenue, finally welcomed its first guests last week. Launched by bartenders Austin Melrose (Bagatelle), Zach Patterson (Bagatelle) and Ian Shepp (Key Club), it's the city's first post-prohibition-themed bar.
Speaking of history, it's been said that the family you're born into shapes your fate. For Austin Melrose and the opening of his first bar, this rings eerily true.
Rainy Days are Here to Stay.
The umbrella aspect of the bar's name refers to a clever post-prohibition symbol. During that time, storefronts would display a drawing of an umbrella with raindrops — celebrating the end of the 'dry' era, with many 'wet' days to come — signified alcohol was served once again.
In search of a unique logo, Melrose unearthed a family album his grandfather gave him when he graduated high school. Lo and behold, he discovered photo after photo of his great-great-great grandfather, James Melrose, not sporting a cane — as was the fashion of the day — but ironically, an umbrella.
The fates had spoken. The silhouette of his ancestor carrying an umbrella became the bar's logo. James Melrose is there in spirit, as well, watching over the bar from a stoic black-and-white portrait hung near the fireplace.
"It gave me chills when I saw that he had an umbrella in every photo," says Melrose, "like a sign that opening the bar was the right thing to do."
And yes, that really is his name, adding to the strange coincidences surrounding the bar.
Playing on the post-prohibition theme, designer Matt Winter of M. Winter Design pulled together early 20th century elements, like the ornate apothecary as the back bar, New York City subway tile on the walls, and Art Deco chandeliers.
And, of course, umbrellas are central. Thirteen vintage umbrellas, signifying the 13 years of prohibition from 1920 to 1933, line the wall.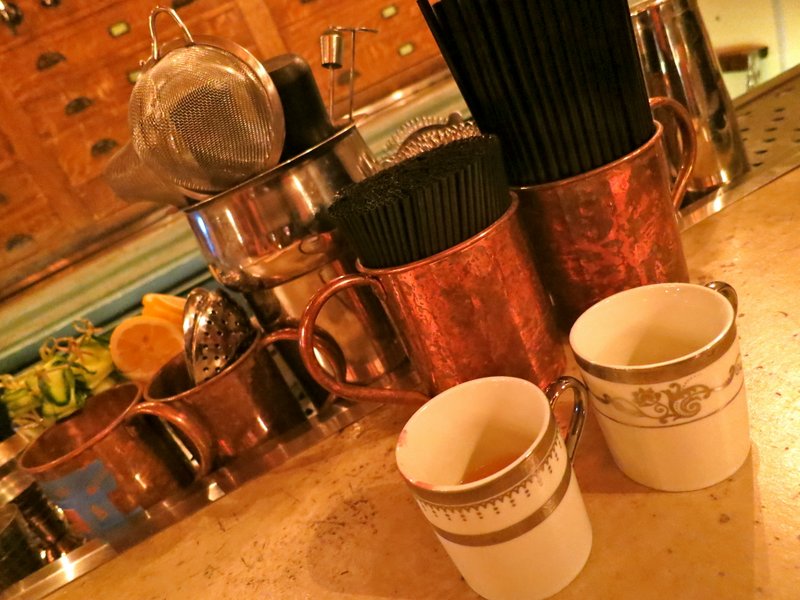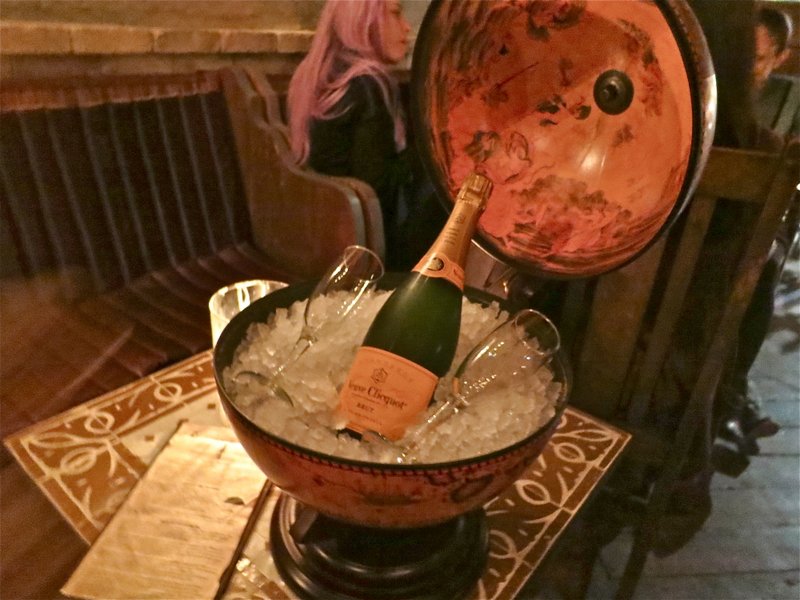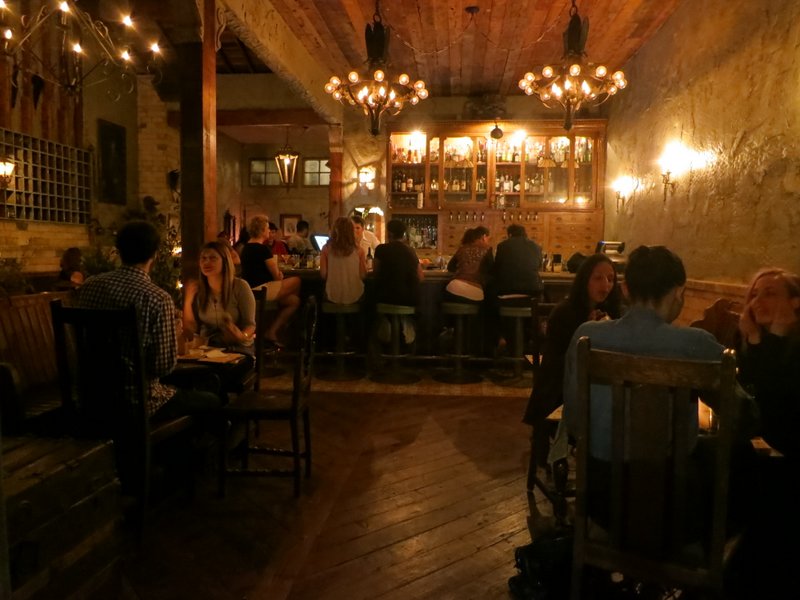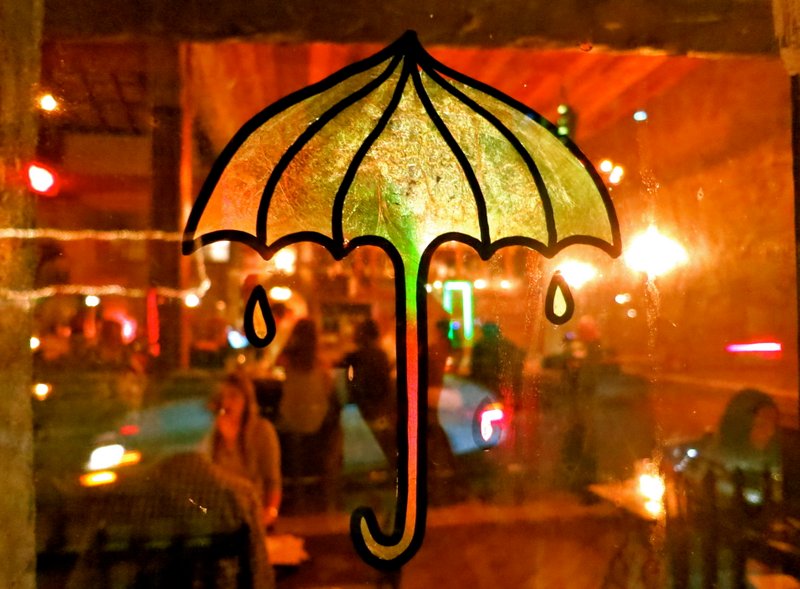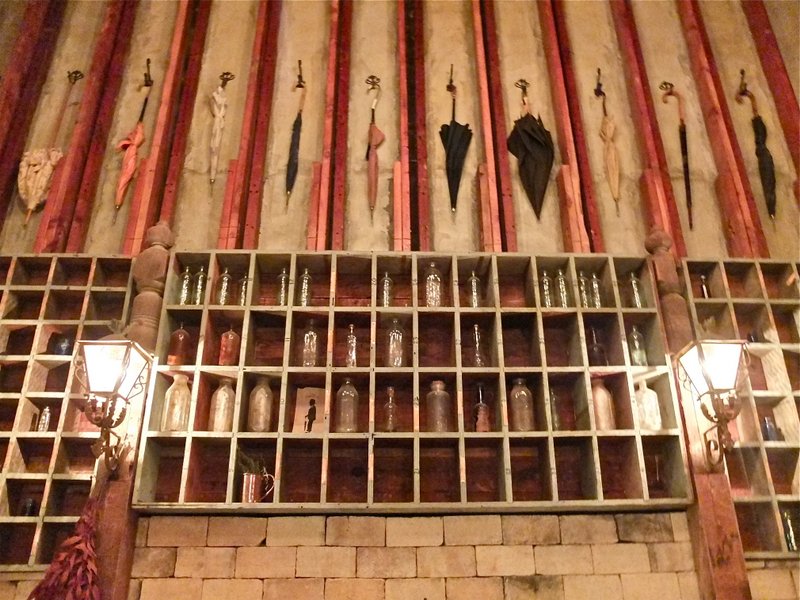 The Cocktails.
As a bar launched by three longtime L.A. bartenders, creative drinks featuring craft spirits, fresh juices and housemade tinctures are de rigueur. With four types of ice — from Cold Kraft to crushed — Melrose calls it 'an aggressive ice program.'
Co-owner Zach Patterson designed the cocktails with the help of pals Josh Goldman and Julian Cox of Soigné Group and Paul Sanguinetti (The Patina Group). The menu features a mix of original creations and popular post-prohibition cocktails, such as the Penicillin and Sloe Gin Collins. A distinctive feature of a night out at Melrose Umbrella Co. is the amuse-bouche aka 'amuse booze:' complimentary mini cocktails (bartender's choice) served in espresso cups.
In contrast to pre-prohibition menus, emphasizing boozy brown-spirit cocktails such as Old Fashioneds and Manhattans, Umbrella Co.'s creations are surprisingly subtle and fruit-forward. Geared for those who prefer drinks that mask the taste of alcohol, the original creations are as follows:
Poison Arrow: Dos Armadillos Anejo, Bacardi 8, Canela Peche ($14)
Patterson's Nap: Buffalo Trace Bourbon, Tangerine, Lemon, Campari ($10)
Soda Jerk: Zaya, St. Vincent Orgeat, Angostura, Bundaberg Ginger Beer, topped with Maraschino Cherry ($12)
Romance Without Pressure: Oxley Gin, Passion Fruit, Cucumber, Grapefruit ($12)
Pretty Woman: Strawberries, Vodka, St. Germaine, Lime, Bubbles ($10)
There are only eight cocktails (with Fernet Branca on tap), yet more 'volumes' of cocktails will be rolled out quarterly. "The volumes are like chapters in a book; we'll just keep adding to our cocktail menu," says Melrose. Creatures of habit, rest assured — previously featured drinks will still be available, even if they're not listed.
All-star bartenders behind the stick include Conor O'Brien (SLS Hotel), Ali Huleisy (Blue Boar) and Dave Purcell (Dirty Laundry).
Craft beers, wines and bottle service served in a groovy globe (see photo of presentation in slideshow) are also available.
The Eats.
Homage and nostalgia abounds, even down to the food menu. Housed in the former space of The Foundry, the grilled cheese sandwich menu is provided by The Foundry's chef and owner, Eric Greenspan. Highlights include the Cuban (gruyere cheese, pulled pork, house made kraut), Johnny Pastrami (pastrami, apple mustard chutney) and The Med (goat cheese, peppers, artichoke, avocado).
For a city that rarely sees rain, Melrose Umbrella Co.'s 'more wet days to come' theme is a welcome addition.
Melrose Umbrella Co. 7465 Melrose Ave, 90046
Hours:
Sun-Wed 4:00pm -11:00pm;
Thursday thru Saturday 4:00pm-2:00am
Special Events: Tuesday nights feature live piano by 'Brother Sal,' starting at 8:30 p.m.