By Lanee Lee, Foodable Contributor
What happens when you combine nine bloggers with six bars and copious amounts of mezcal in one night? A lot of hilarity and revelry, no doubt.
Since 2010, Aidan Demarest of bar consulting company Liquid Assets and Caroline Pardilla, better known as Caroline on Crack, have organized a barhop blowout for a select group of L.A. cocktail bloggers and writers.
Each year, it's anchored in a different theme, highlighting a featured spirit. The first time I was lucky enough to land an invite, Blogger Barhop 2013, high-roller bar crawling ensued among Beverly Hills' glamorous locales, such as Ten Pound Bar at the Montage Hotel and Chef Wolfgang Puck's Spago.
This year, the barhop shimmied east to West Hollywood, with 'hotel pools' as the presiding motto and El Silencio Mezcal as the night's sponsor.
Featured bloggers included Caroline on Crack (LA Magazine blogger); Daniel Djang (ThirstyinLA.com); Beth Fisher (BusyBethsBlog.com); Aaron Tell (SavoryHunter.com); Lesley Jacobs Solmonson (12BottleBar.com/LA Weekly blogger); Esther Tseng (EstarLA.com); Matthew Kang (Eater.com blogger); Jason Horn (TheMessyEpicure.com/Liquor.com) and yours truly.
Here are the sip-by-sip highlights:
6:30 p.m. — Pool Bar, Sunset Marquis
We arrived buttoned-up and bright-eyed, decked out in fancy duds. A buzz of anticipation for the night's itinerary filled the air. Dave Whitton, head bartender at Sunset Marquis, was already churning out the Cruciform — the first of multitudes to come — of Smith & Cross Navy Rum, Selva Rey Blanco, lime, Bartlett and Anjou pear syrup and garnished with a salted pear. Once drinks were in hand, we toasted to the fourth edition of #bloggerbarhop!
Known as the 'den of sin' for many rockstars throughout the decades, the men of the group emulated a photograph of Aerosmith as Whitton whirled out two different styles of Old Fashioneds. Featured on the bar's menu, the classic Old Fashioned is made of Eagle Rare 10 Yr Old, bitters, lemon/orange oils, and the bittersweet of Elijah Craig, Angostura and grapefruit bitters, lemon/grapefruit oils.
7:30 p.m. — Cavatina, Sunset Marquis
Under the direction of Cavatina's Executive Chef Roger Eggleston, beautiful bite-sized courses were paired with cocktails made tableside by Whitton. A favorite was the Floozie (a swizzle-style tipple made with Tito's Vodka, strawberry Bramble, kiwi, lemon and basil). Other tasty sips included Autumn Crocus (El Silencio, Avión Reposado, housemade chile mango, lime, agave) and Smokin' Palms (Selvarey Light Rum, Stolen Coffee & Cigarette Rum, coconut milk, pineapple, orange, and strawberries served in a coconut).
Snuggling in furry blankets on chaise lounges near the pool, a spicy mezcal cocktail topped with cayenne pepper made the rounds. By this point, many of us were simply drinking commando-style (straight from the bottle). Thanks to Beth and her rather large purse, the coveted bottle of El Silencio was never far from reach.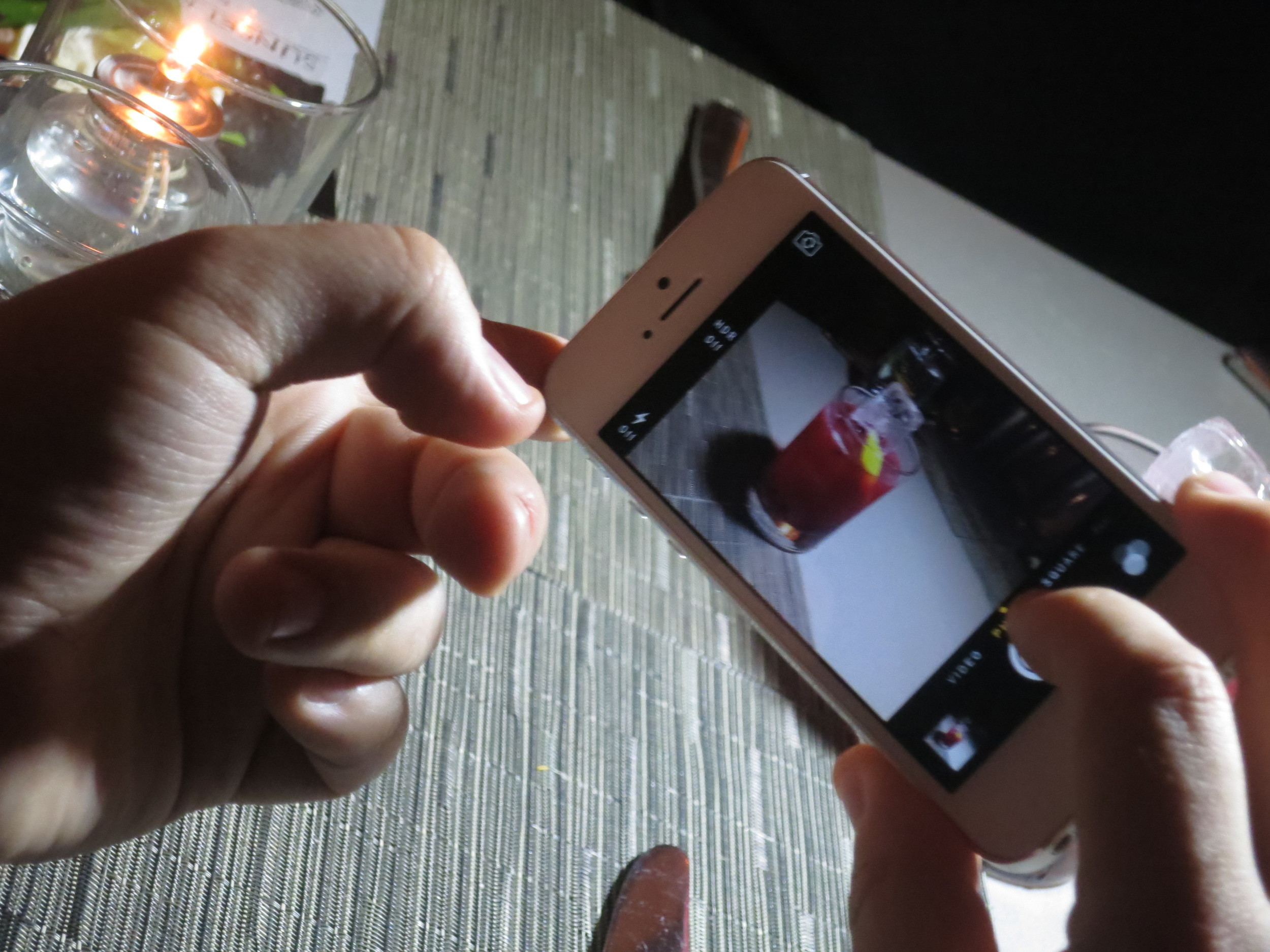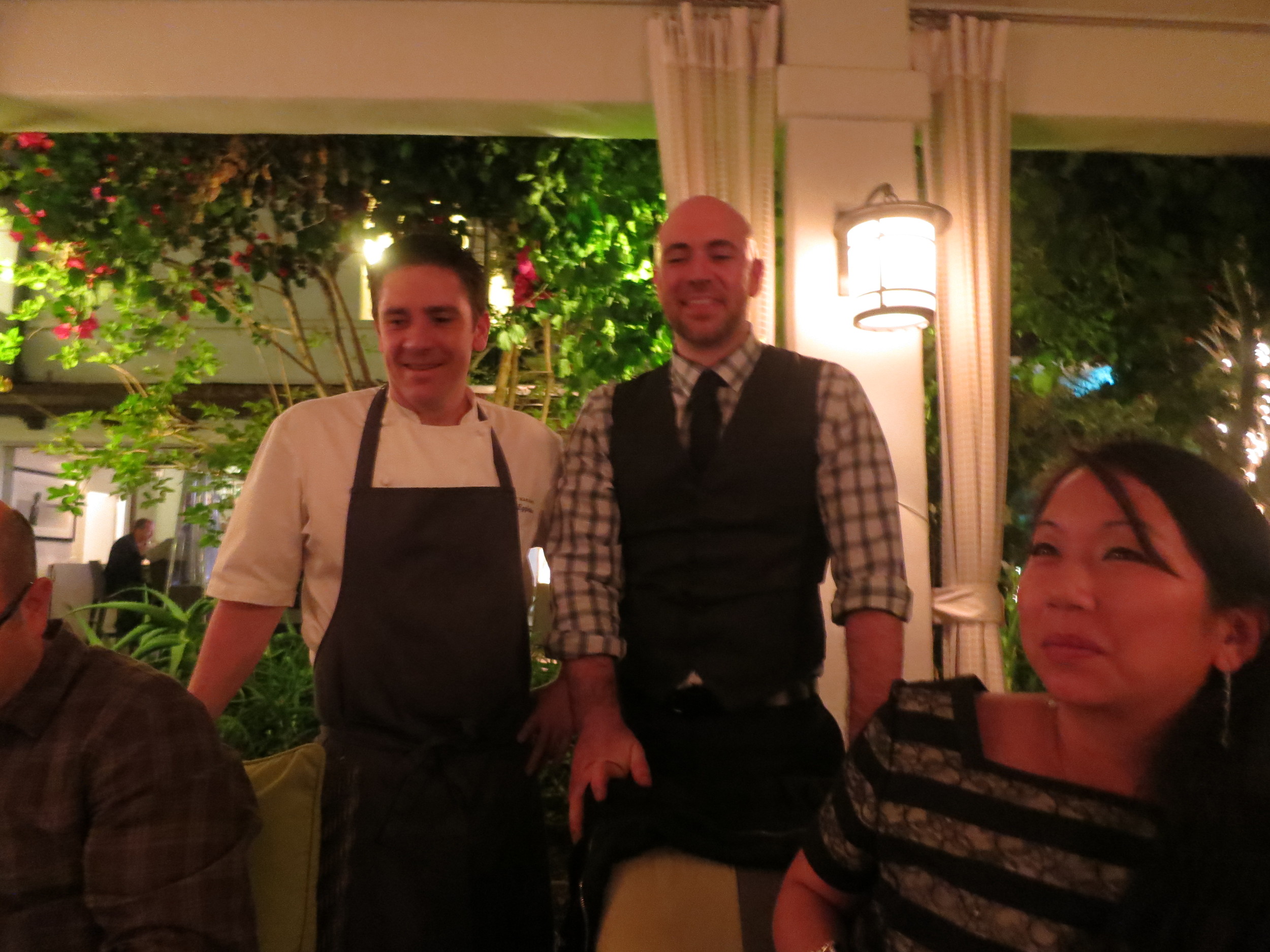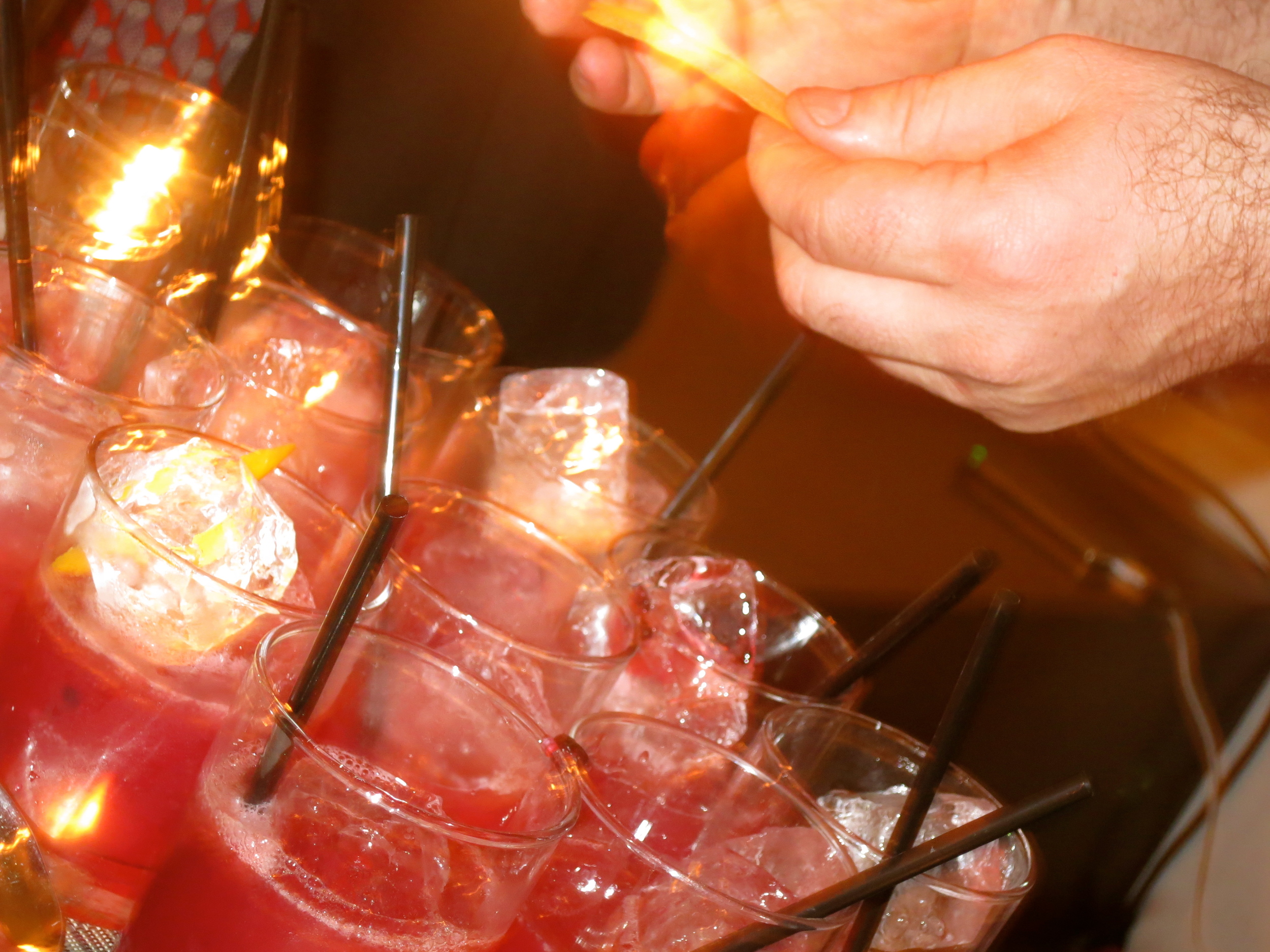 As a parade of beer and bright pink mezcal cocktails marched out, it was time for a much needed carb-laden nosh. Like hawks circling their prey, we greedily swarmed (or at least I did) over the sweet potato fries, kale chips and fried artichoke hearts near the teepee and ping pong table of the Standard's outdoor bar.
Snatching up a table poolside, near the thumping bass of the DJ's tunes, here's where the night took a turn. Inspired by a guy doing some strange robotic dance maneuvers all by himself on the dance floor, Aidan Demarest went man-to-man and challenged him to a dance off. In our book, Demarest won based on pure bravado and bravery. More shots of El Silenco Mezcal ensued.
12:15 a.m. — Spare Room
, Hollywood Roosevelt Hotel
At Demarest's former haunt as Bar Manager, the bartenders pulled out the stops and whipped up Spare Room favorites like the Frenet Egg Cream (Frenet, Jameson, egg white, soda, chocolate syrup, garnished with a pretzel stick) and new spring cocktails like La Otra (El Silencio Mezcal, tequila blanco, Cuarenta Y Tres, citrus, egg white, club soda).
With inhibitions down, we crammed ourselves into the bar's photo booth for goofy-faced snapshots. Even though there was no dance floor, classic songs from the '50s to the '90s, like Chubby Checker's "The Twist" and Sir Mix-A-Lot's "Baby Got Back" had us all dancing this time. In a circle, taking turns strutting our stuff in the center, Demarest joked, "We turned this bar into a bad scene from a wedding reception!"
1:30 a.m. and beyond…
Here's where I waved the white flag and exited the scene. I'm told the party continued until the wee hours of the night, followed by a brunch at Sunset Marquis with detox juices from the hotel's veggie juice menu like Energy (carrot, apple celery, olive oil, ginger) and Vegetable 8 (tomatoes, jalapeños, cucumbers, parsley, celery).
Without a doubt, the Demarest-Pardilla duo delivered, yet again, the blogger event of the year.