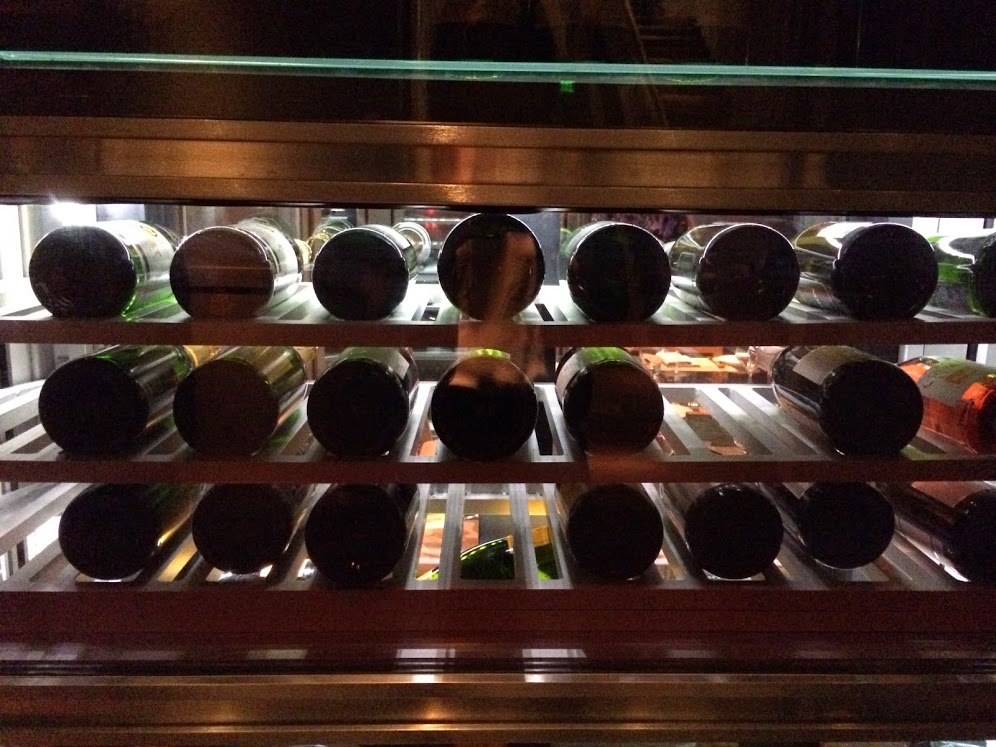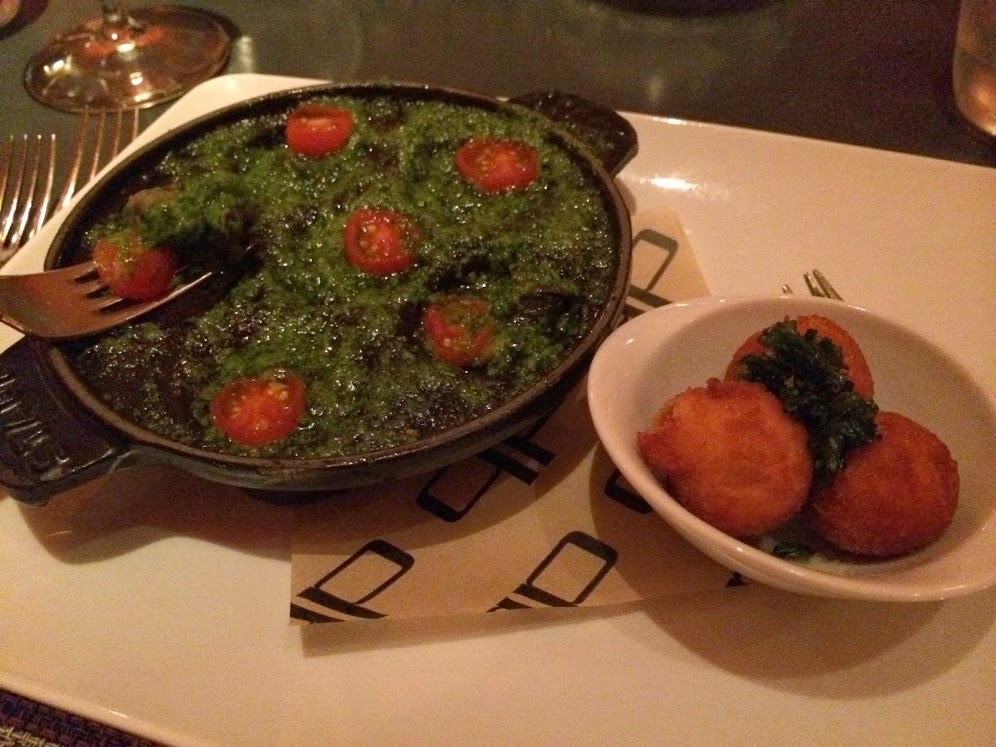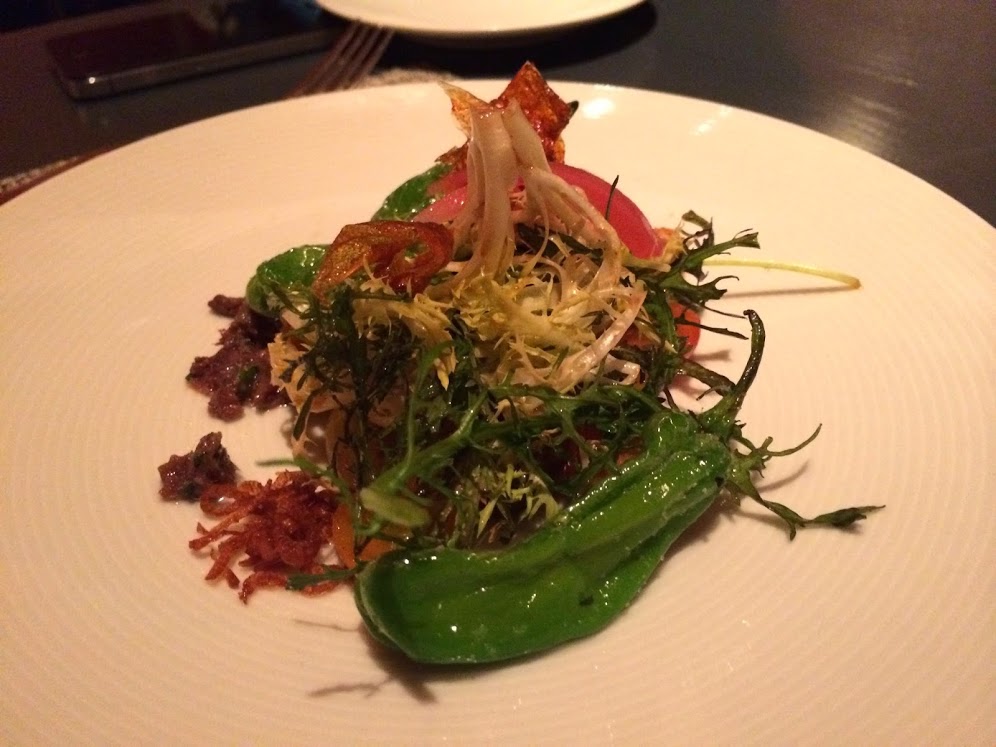 We previously reported on a number of New York City restaurants that made their way down to tropical Miami. If you haven't gotten a chance to try them yet, you've got more work to do, but in the meantime, we'll give you a glimpse inside Chef Daniel Boulud's famed db Bistro Moderne.
This fine dining establishment is appropriately located at the JW Marriott Marquis downtown, a well-known upscale hotel. Once you've dropped your car off, next to the lamborghinis and ferraris, you're only a few steps away from the restaurant, which is just off the expansive lobby. Walking into db Bistro Moderne, your eye is immediately drawn to the glass wall of wine bottles. The team at db Bistro Moderne has put together a sophisticated amalgam of little known wines, as well as the beloved French selections. More than half of the wines on the menu are under $100, which gives more incentive to order that second bottle.
Once greeted by the dapper hosts, guests have the luxury of enjoying an aperitif in db Bistro's comfortable lounge and bar. You'll likely be enticed by any of their handcrafted cocktails, like the Poiré Sidecar with Osocalis Rare Alambic, Asian pear and pear nectar or the Fuego Tropical with Sombra Mezcal, Bittermens Hellfire Habanero Shrub and passion fruit.
Behind Boulud
The notable French chef received his first accolades at the age of 15 where he was a finalist in France's competition for the Best Chef Apprentice. Boulud went on to train with renowned chefs like Georges Blanc and Michel Guérard, followed by a few years cooking in Copenhagen. Boulud made his way to the U.S., working as the chef to the European Commission in Washington, D.C. before moving to New York City, where he established himself at the Polo Lounge, Le Régence and Le Cirque restaurants.
Decadent Dishes
Consider this: a Duck Pate en Croute with hazelnut, dried fruit mostards and peat smoked raisins — a simple and sophisticated start to a meal that you'll be thinking about for weeks. This season, you'll likely find a grilled tuna with roasted sunchoke, Cara Cara orange and sunflower seeds or coq au vin with pearl onions, bacon, spatzle (egg noodle) and mixed mushrooms. As for the pièce de résistance (dessert), diners swear by their fresh baked mini madeleines, but you might set your eyes on a sweeter libation — Bourbon chocolate fondant with caramel sauce, chocolate tuile (wafer) with coffee ice cream.
The Heat is On
As if the culinary lineup weren't reason enough to check out db, the restaurant also hosts a Heat Happy Hour, Monday-Friday before (5-8 p.m.) and after (8-10 p.m.) the game. The special includes seasonal cocktails and bar bites including 'Frenchie' sliders, crispy calamari, and BBQ wings with red onion compote. Buy one cocktail and get your second cocktail free when you mention HHH to your server.
Now considered one of greatest chefs of his time, the award-winning Boulud, chef and restaurateur, has masterfully launched db Bistro Moderne, as well as numerous other restaurants, primarily located in New York. This international chef also boasts restaurants in London, Singapore and Montreal.
Chef Boulud has elevated Miami's restaurant status with the prized db Bistro Moderne, a culinary experience that leaves a lasting French impression.