They say if you can make it in New York, you can make it anywhere. This rings true for many, but especially for restaurateurs, whose livelihoods weigh on a concept's success amongst a constant rotation of rigid competition. And in a city where getting reservations bolsters reputations at whatever the hot new spot is, making it to the one-year mark can be a brutal undertaking.
To stay top-of-mind to diners in such a prominent food city with dozens of new chefs coming onto the scene each year, New York chef and restaurateur Harold Dieterle said, "We try and stay true to ourselves, and listen to feedback from our guests and neighborhood followers." A good amount of this feedback comes in the form of analyzing online reviews. "Most folks stay positive on social media outlets," said Dieterle, a clear nod to superb service and delectable dishes.
Three Restaurants, Three Influences
For a man that's constantly being pulled in several directions, Dieterle certainly has his priorities straight. Whether you know him personally or not, it's apparent that he is more concerned with constantly improving than about the hype that a handful of restaurants in New York City latch onto. That's not to say his three restaurants — Perilla, Kin Shop, and The Marrow, which he co-owns with business partner Alicia Nosenzo — are not must-visits. The Dieterle/Nosenzo empire, or small kingdom, is cult-like to both locals and visiting foodies alike. This small kingdom never would have come into fruition if it weren't for a pivotal moment in Dieterle's high school career. "I was a bad student in high school, [so] I took a Home Ec class to meet girls and was immediately focused on cooking," he recalls.
Of his notable mark on New York City, the Long Island native can attribute his success, in part, to his fearless approach to taking risks — an important characteristic for any high-achieving chef. Not only was Dieterle the winner of the first season of Top Chef — a time when reality TV culture was brand new, especially for chefs — but trusting his intuition and going with it also led to his three thriving concepts, and their very different menus.
Perilla, which opened in 2007 in Greenwich Village, is primarily New American with accents of Asian flavors. It wasn't until three years later with Kin Shop that he honed in on this Thai influence more, making this non-Thai chef one of few boasting a highly-acclaimed Thai restaurant without the cultural background (though he did spend time in Thailand). Regardless, Kin Shop's success skyrocketed, and continues to do very well. The Marrow, the business duo's most recent concept, took a bit longer for the NYC crowd to hop on board with. This may have something to do with the fact that its menu, which is split in half between German and Italian fare, isn't a typical one. Still, it doesn't seem to faze Dieterle one bit: "I don't think we are doing anything crazy at any of the restaurants, except serve different styles of cuisines."
So, as a small kingdom, what connects the three restaurants, aside from ownership? "I think all of our places have the same feel, with the same emphasis on excellent service," said Dieterle. And, like many other successful businessmen/women, he believes in steering a tight ship by allowing solid employees to grow within the company. This seems to be a common denominator in the success of consistent and excellent service — loyalty goes a long way.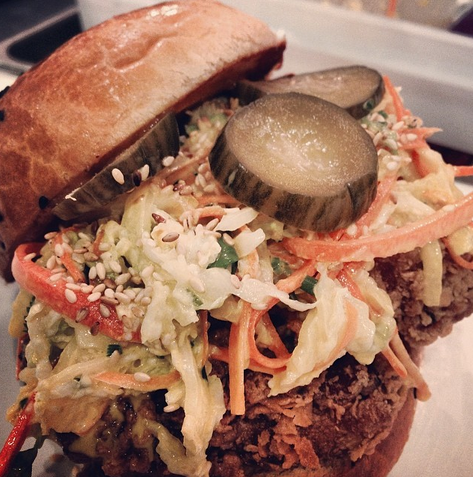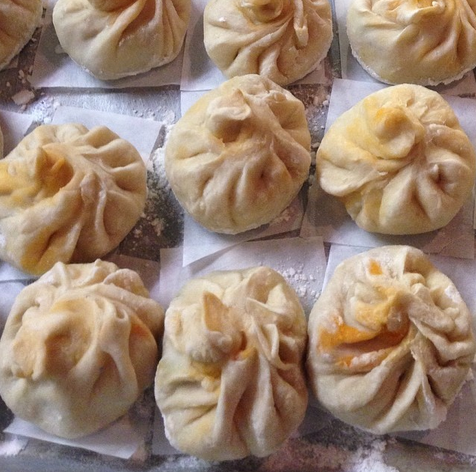 Social Good for the Social Chef
Ranked by our proprietary Restaurant Social Media Index as a Top 50 Social Chef (he came in at No. 8), Dieterle is a man of the people, frequently thanking guests on Twitter for their — most often — kind words after paying a visit to one of the three restaurants. He also doesn't shy away from food photos of daily specials.
And if you scan any of the restaurateur's social profiles, it doesn't take long to see that he has quite a passion for fishing and sustainable seafood. This, he ascribes to his upbringing. "I grew up fishing in Long Island as a kid and I have seen the local waters become overfished," he said. "Being responsible is important to us."
What Does the Future Hold?
So what's to come from one of the most prominent players helming New York City's restaurant scene? Though there aren't any additional concepts in the works right now, Dieterle admits to being open to concepts outside of the city, given the right opportunity. He also has a cookbook coming out in October 2014, "Harold Dieterle's Kitchen Notebook: Hundreds of Recipes, Tips, and Techniques for Cooking Like a Chef at Home." Though a chef's pace never seems to slow down, these exciting milestones are worth savoring.
If Dieterle and Nosenzo's restaurants are any indication, they know what it takes to create a perfect balance of flavor, class, and service. Because in a city swarming with masked personalities to fight off the city's stereotypically cold demeanor, sometimes all it takes is a charming neighborhood meal to bring you back to your roots.