By Alisa Sloan, Foodable Contributor
"When you're here, you're family."
Now that the Olive Garden has dropped their long-running slogan, maybe Nonna can pick it up. After a quiet opening four months ago, this rustic and elegant North Killingsworth gem has been welcoming the neighborhood for family dinners, after-work drinks, friendly meet-ups and late-evening snacks.
Nonna is the laid-back sibling to sister-restaurant D.O.C., located right next door. And yes, both are Italian restaurants. Yes, both have an emphasis on fresh, Northwest ingredients. Both feature an open kitchen with chefs on display (though Nonna's is tucked under the front window, not part of the dining experience like D.O.C.). Yet, unlike its sister, Nonna only takes reservations for parties of six or more, so instead of being an "occasion" restaurant, Nonna makes it easy to drop in for the unpretentious, ingredient-forward food that an Italian grandma might serve her family. You'll want to try everything, from the "true" Caesar salad to mussels over linguini, spaghetti and meatballs (polpette) for the kids/the kid in you, aglio et olio (so simple/so good), and the must-try brisket, which is brined for five days before a full day of slow-cooking, resulting in a fork-tender slab, rich with juice and fat that's ladled over lentils from a family farm in Washington State and topped with creamed horseradish.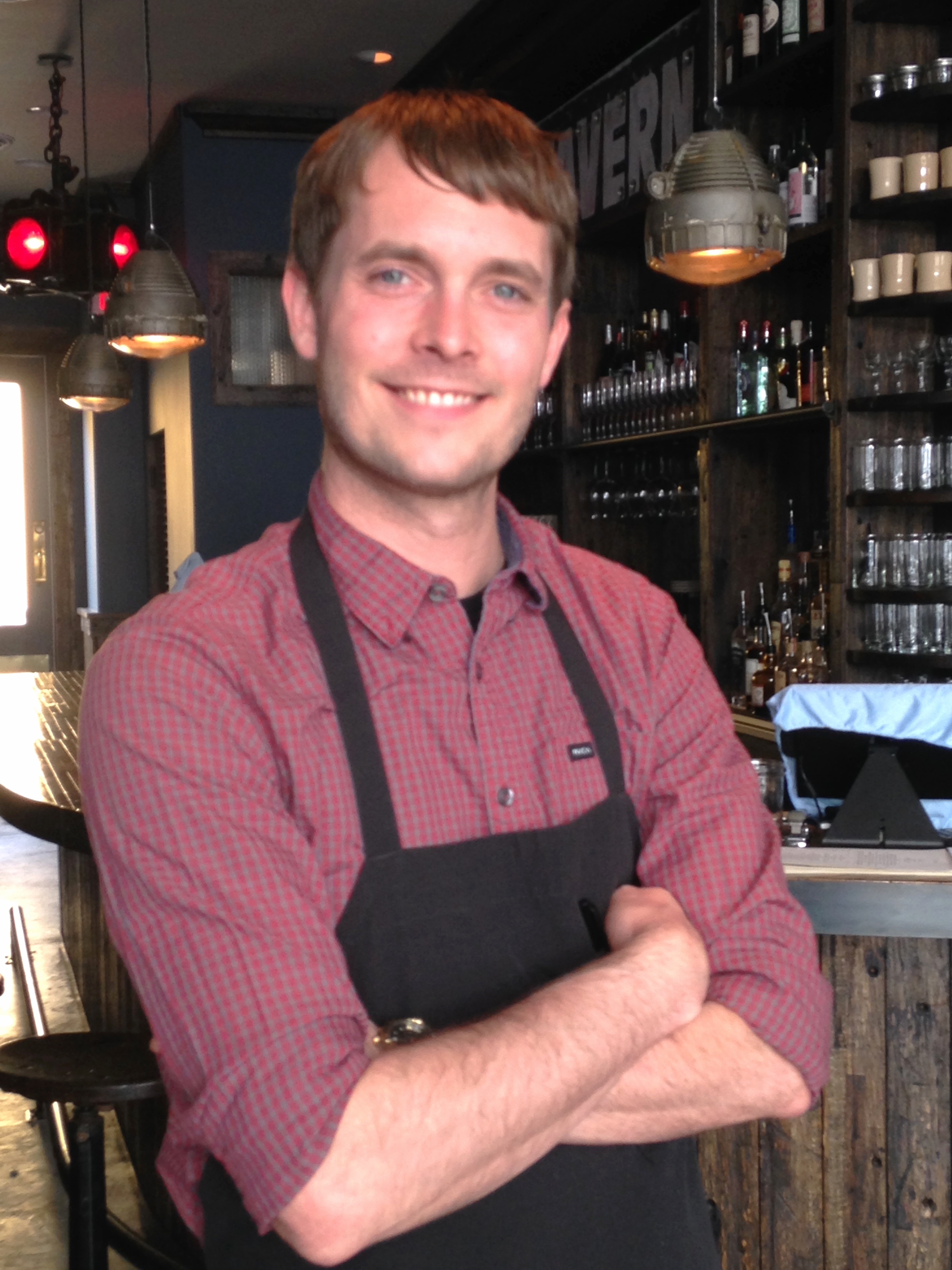 All in the Family
Look up at the wall and you'll see a triptych of the owner's mother, known as Nonna to her grandchildren, who watches over the goings-on with a playful eye. Other than the bar, this may be the best seat in the house — you can see the kitchen, the bar and the front door.
Look into the kitchen and you'll see executive chef Jobie Bailey, who ran D.O.C.'s kitchen for four years before opening Nonna. "When I was presented with this opportunity, I jumped at it," he says. "I haven't actually opened a restaurant before from start to finish, or designed a kitchen from start to finish." But he had to give up the reins at D.O.C. to transition into Nonna, and since he's a self-aware "control freak," there had to be a high level of trust. "Thanks to Brian Scibetta (now the executive chef at D.O.C.), I felt very comfortable walking away from it."
Like the best of Italian families, Nonna plucked staff from D.O.C. and their circle of industry friends to run the business. Jobie says he absolutely adores the lineage staff the restaurants attract, and the camaraderie between both restaurants. "It's so homey and so quaint, that you have to get along with your co-workers," he says. And some of them go way back. Leb Borgerson, Nonna's general manager, has known Jobie since childhood — he even married Jobie and his wife. He's known Brian Scibetta, the chef who took over D.O.C., since Brian was 17 years old, then going to high school and interning at Paley's. Timothy Bissell, who hired Jobie, is also one of his best friends. Says Jobie, "We've all hired friends!"
And as friends, they take care of each other. "I take a lot of pride in our family," says Jobie. "We've all got each other's backs, we all know way too much about each other. But then also, if something goes wrong, we're all here for each other. That's what makes D.O.C. really fun, and Nonna is getting there, too." So how much time does an executive chef put into a gig like this? "This is my home," says Jobie. "I wake up, I shower, I put on clothes, I come here. That's what I do every day, even on my days off. I don't have a whole lot of hobbies."
His wife is in the business, too — a pastry chef and bakery manager. Her bread is served with Nonna's menu. So at home, not surprisingly, they talk shop, and according to Jobie, "she understands the passion, the care, and the desire to make everything work. It's been really nice. I don't think I could do it with anyone else."
With 60 seats in Nonna and a plan to expand into the backyard with a patio, there's a lot to talk about over the breakfast table. "Not to be cheesy," he says, "but none of this would come together without family, and to create more family [at Nonna] is really cool."
Nonna is located at 5513 NE 30th Ave, Portland, OR 97211.