By Sery Kim, Foodable Contributor
Whether it's the Super Bowl or the World Series, the Stanley Cup or the World Cup, the elements necessary to make observing sports entertaining are remarkably similar: great food, flowing drinks, and, naturally, a large screened television.
In honor of the World Cup festivities, here is a roundup of some of the best sports bars in D.C.
In the foodie abyss of Adams Morgan comes Roofers Union with floor-to-ceiling windows, a great rooftop deck, mouthwatering snacks and a solid beverage menu. The Chicken Wings with sriracha honey glaze ($8) will change your tastebuds with its burst of flavor. Another marvelous snack is the French Onion Dip ($6) for its elegantly smooth finish.
Chase down the food with the Helter Skelter ($10) from the cocktail menu: Hayman's Old Tom Gin, Bigallet China, Cocchi Vermouth di Torino and lemon. Sweet relief for the full-bodied food from standout chef and owner Marjorie Meek-Bradley.
Located in the heart of Chinatown at 901 9th St. NW, City Tap House offers "San Francisco food truck"-worthy fare. The venue is also craft beer-heavy, highlighting everything from regional to International breweries from Vienna, Germany and even the Japanese Hitachino Nest brews.
Be sure to order the Sweet Corn & Crab Hushpuppies, made with honey-thyme butter and citrus remoulade (14); Korean Short Rib Tacos with pickled cabbage slaw, cilantro and chili sauce (13); and a heart-stoppingly delicious Cuban "Craftwich" (14) — roasted pork roulade, Benton's shaved ham, gruyere & provolone, house sweet pickles and fidel sauce. Also, don't leave without trying the Duck Fat Fries with truffle aioli (7).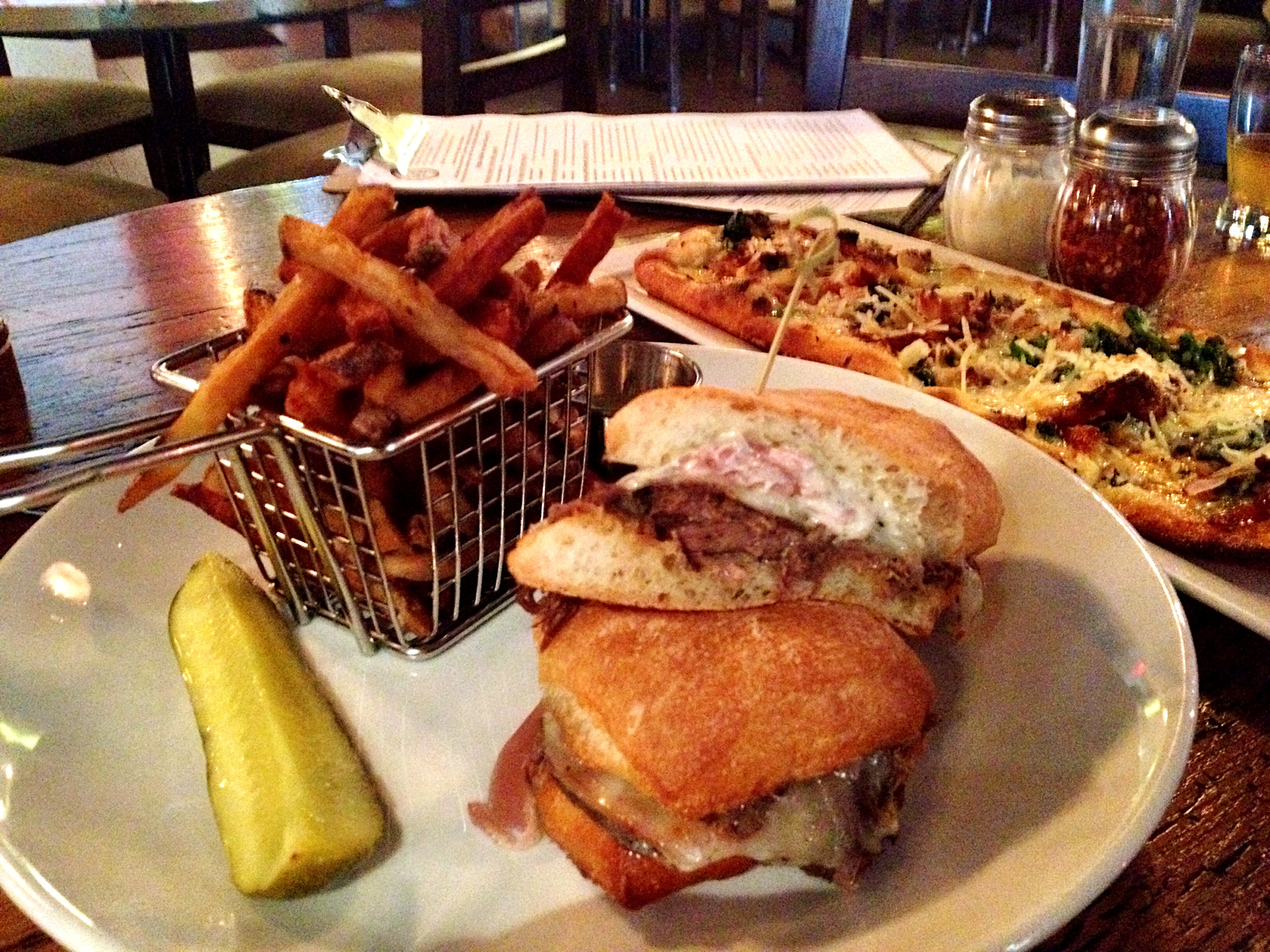 In addition to having some of the best cocktails in D.C., Jack Rose has an expansive open-air terrace with three flatscreen TVs at the bar, plus a 60-inch projection screen. There are half-priced menus during happy hour in the first floor bar, but go up to the terrace to give the Cold-Lada (13) a try: Bacardi Rum, Lime, Hybiscus Syrup, Coconut Crème & Juice.
As for food, order the Fried Chicken Skins (6) seasoned with paprika and lime or the Smoked Whiskey Wings (11) drenched in honey, garlic, apple cider vinegar and smoked Old Crow bourbon.
Probably the best place in Georgetown to watch sports, Pinstripes has something for everyone. The Italian-American inspired menu features fabulous wood oven flatbreads, complimentary gelato and great martinis, which come highly recommended. The Fig Prosciutto Flatbread with Italian prosciutto, dried figs and a balsamic reduction is a great balance of sweet-and-savory.
For those who live in a world outside of the D.C. "heartland" of 14th St./Logan Circle/Chinatown, Glover Park's Townhall, located at 2340 Wisconsin Ave. NW, is always a super fun sports watching venue. Pop your collar and come for relentlessly good happy hour specials, as well as their re-vamped Chicken Sandwich ($13).