A weekend of wine tasting is a great getaway. For approximately $15 per winery, you can taste a line-up of pre-selected wines. But, want to try library reserves? Barrel tasting? Meet the winemaker? Tour the vineyard? These are usually reserved for wine club members or for special events… until now.
The Santa Barbara Vintners recently organized a weekend called the "Key to Wine Country." For $100, you were given a "key" that unlocked many of these unique experiences. There was no limit to how many experiences you could attend throughout the weekend – it really depended on your stamina and designated driver (which was me, which meant a lot of spitting).
Here are all of the experiences we unlocked in just 3 days!
Friday:
11:00 a.m. — Solomon Hills Vineyards
We drove up to Santa Barbara Wine Country on Thursday so that we would be there fresh and early for our Solomon Hills Vineyards walk with vineyard manager Chris Hammell and winemaker Trey Fletcher. Solomon Hills Vineyards is located in the most western part of Santa Maria Valley. With soil that is red iron rich and sandy, and the mix of cold, sun and ocean breeze, this vineyard is the optimal place for growing Pinot Noir and Chardonnay (and a little Syrah). It was 11 a.m. and the perfect time to start tasting wine. As we walked through the vineyard with our glasses in hand, we tried different Chardonnays made with grapes from Solomon Hills. At the top of the hill, we stopped for a picnic lunch and the Pinot Noir and Syrahs came out. As Solomon Hills Vineyards is owned and managed by Bien Nacido Vineyards, approximately 8-10 miles away, we also tasted wines produced from that vineyard.
Wines Tasted:
Steele 2012 Pinot Blanc, Bien Nacido Vineyard
he Ojai Vineyard 2010 Chardonnay, Solomon Hills Vineyard
Solomon Hills 2012 Chardonnay
Devolet 2009 Chardonnay, Solomon Hills Vineyard
Solomon Hills 2011 Pinot Noir, Santa Maria Valley
Presqu'ile 2009 Pinot Noir, Santa Maria Valley
Bien Nacido 2011 Pinot Noir, Santa Maria Valley
Bien Nacido 2010 Grenache, Santa Maria Valley
The Ojai Vineyard 2010 Syrah, Solomon Hills Vineyard
Bien Nacido 2011 Syrah, Santa Maria Valley
3 p.m. — Andrew Murray Vineyards Summer Sangria Party
Located at the old Curtis winery, which Andrew Murray Vineyards recently bought and renovated, we were joined by Andrew Murray and tasted through the wines. After the wine tasting and some small bites, we enjoyed three styles of sangria (white, rose and red) that Andrew Murray had mixed up using his wines. Just goes to show that while good wine should be enjoyed on its own, it can also be used in a mixed drink. We then sat outside listening to a guitarist, sipping sangria, eating tacos and unexpectedly ended up spending the rest of the evening there, chatting with other guests and winemakers who stopped by.
Wines Tasted:
Andrew Murray Vineyard 2013 Viognier, Santa Maria Valley
Andrew Murray Vineyard 2013 Esperance Rose, Curtis Vineyard, Santa Ynez Valley
Andrew Murray Vineyard 2012 Cinsault, Curtis Vineyard, Santa Ynez Valley
Andrew Murray Vineyard 2012 Syrah, Stolpman Vineyards, Ballard Canyon
Saturday:
11:00 a.m. — Barrel Tasting & Farm-to-Table Luncheon at Flying Goat Cellars
For an additional $40 plus the "key," winemaker Norm Yost invited us to his winery for a comparative barrel tasting of 2013 Pinot Noir from some of the nine different vineyards that he sources fruit from. In the end, some of these wines will be blended together and others will be bottled separately. After the barrel tasting, a delicious farm-to-table lunch was served that had been prepared personally by Norm and his wife Kate using locally sourced ingredients.
2013 Barrel Samples Tasted:
Clone 777 Bassi Vineyard (San Luis Obispo County)
Clone 777 Rio Vista Vineyards (Santa Rita Hills)
Clone 115 Rio Vista Vineyards (Santa Rita Hills)
Clone 115 Dierberg Vineyard (Santa Maria Valley)
Clone 667 Bassi Vineyard (San Luis Obispo County)
Clone 667 Rio Vista Vineyards (Santa Rita Hills)
Wines Tasted:
Flying Goat Cellars 2008 Goat Bubbles
Flying Goat Cellars 2011 Pinot Noir, Dierberg Vineyard, Santa Maria Valley
Flying Goat Cellars 2010 Pinot Noir, Rio Vista Vineyards, Santa Rita Hills
Flying Goat Cellars 2009 Pinot Noir, Salisbury Vineyards, San Luis Obispo County
2:30 p.m. — Samsara
We drove over to the Lompoc Wine Ghetto and caught the tail-end of Chad Melville's Pinot Noir and Syrah Barrel Tasting, and were able to taste the 2013 Syrah in barrel, the same wine that we helped do punch-downs back in October.
3:30 p.m. — Ampelos Cellars Winemaker Meet & Greet
From Samsara, we walked across the parking lot for a quick taste of the 2009 and 2010 Ampelos Pinot Noir, Santa Rita Hills. Ampelos produces wine from their own vineyard, which holds three green certificates: Organic, Biodynamic, and Sustainability in Practice (SIP).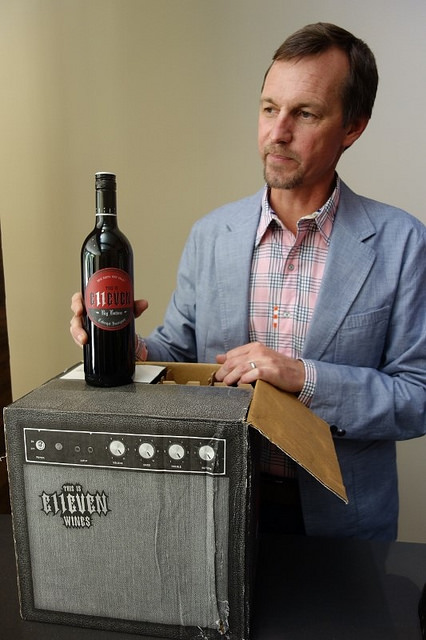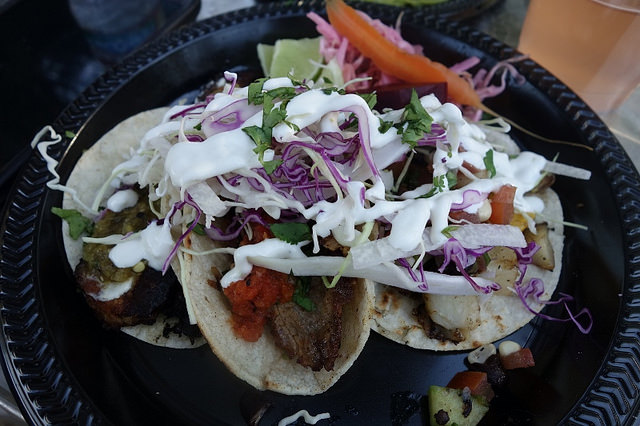 4:30 p.m. — Dierberg & Star Lane Vineyard
The last stop of the day was at Dierberg Vineyard in Lompoc, where they were offering a library wine tasting from their cellar. These wines were decadently paired with cheese from C'est Cheese and chocolate truffles from Jessica Foster Confections.
Wines Tasted:
2009 Dierberg 'Steel' Chardonnay, Santa Maria Valley paired with Fromager d'Affinois, Double Cream Brie (cow), France
2007 Dierberg Pinot Noir, Santa Maria Valley paired with Nord Hollander Gouda (cow), Holland
2008 Dierberg Syrah, Happy Canyon paired with Red Wood Hill Chevre (goat), Sebastopol, CA
2008 Star Lane Cabernet Sauvignon, Happy Canyon paired with Milk Chocolate Madras Curry
2006 Star Lane Astral, Happy Canyon paired with Dark Chocolate Rose
Sunday
11:00 a.m. — Clos Pepe Estate Open House & Barrel Tasting
Bright and early, we were ready to start tasting wine again. After all, your palate is freshest in the morning! At the Clos Pepe winery, located in a warehouse next to Flying Goat Cellars, winemaker Wes Hagen, who has been named the 68th most influential winemaker in the US, shared current releases and library releases, but also barrel samples of the 2013 vintage. With a background in creative writing and teaching, Wes is one of the most fascinating winemakers to listen to as he talks about what he looks for in his wines – wines that represent a place and time, and that are delicious and worth the money when they are released.
Wines Tasted:
Clos Pepe Estate 2011 Brut Rosé Sparkling Wine
Clos Pepe Estate 2011 Chardonnay 'Barrel Fermented'
Axis Mundi 2013 Mourvedre Rose, Santa Ynez Valley
Axis Mundi 2011 Grenache/Syrah, Windmill Vineyards, Ballard Canyon, Santa Ynez Valley
Clos Pepe Estate 2011 Pinot Noir
2:00 p.m. — Cold Heaven Cellars
Cold Heaven Cellars created a unique "Rhone Scent-ual Experience" by setting up jars with fruits, spices and herbs in them. Then, as we tasted the wines, we matched up the various aromas that were found in the glass. To be able to smell Viognier and then smell apricots, flowers and stone, or to smell Syrah and then smell earth, chocolate and red fruit, accentuates the wine tasting experience and helps develop your palate.
3:00 p.m. — Buellton Bodegas
Last stop of the weekend was at the Buellton Bodegas, a building housing eight boutique wineries in an industrial area. We tasted wines from Liquid Farm, owned by Jeff and Nikki Nelson. They specialize in chardonnay grown in the Sta. Rita Hills made in an Old-World style, and Jeff took us back into the winery to taste some barrel samples. We then stopped by Casa Dumetz Wines, owned by winemaker Sonja Magdevski and her partner Emilio Estevez, for a glass of 2012 Syrah Rose. The visit ended with a tasting with Michael Larner of Larner Vineyards. Michael started the Buellton Bodegas and produces 1,000 cases of mostly Rhône varieties.
Mark your calendars because you, too, can get a behind-the-scenes visit when the Santa Barbara Vintners offer another Key to Wine Country weekend December 5-7, 2014.