A Massachusetts native transplanted in Philadelphia, Nicholas Elmi has respectable roots in the culinary game. Growing up in a household of five siblings, each of whom took turns cooking dinner for the family, Elmi discovered his passion for cooking at a young age and devoted his career to the craft ever since.
A CIA grad, the now chef-owner has worked under the tutelage of greats like George Perrier, Rocco DiSpirito, Chris Lee, and Guy Savoy. Opportunities have taken him to Paris, Philadelphia, New York City, and back to Philly, where he opened his first restaurant, Rittenhouse Tavern, alongside corporate parent Restaurant Associates.
According to some media sources, Elmi decided to step away from Rittenhouse Tavern a year later, which resulted in a shutter, due to the fact that he wanted to provide the city with something it hadn't tasted before — something personal to him, where he could create a concept from scratch. And thus, Laurel was born.
A few months after opening the intimate, 22-seat, French-influenced restaurant, the chef appeared on "Top Chef" Season 11, and went home a winner. Though Elmi certainly has the culinary chops — which was proven to the masses on the show — this certainly put him on a larger scale map.
Laurel, an American BYO restaurant with French flavor, only offers a 7-course tasting menu with dishes such as cocoa cured foie, Asian pear and black walnut; braised pork cheek, fall squash, sweet pumpkin, and preserved lemon; and olive oil custard, caramel, quinoa, and huckleberry.
This past year alone, Elmi was nominated a James Beard semi-finalist (2014) for "Best Chef: Mid-Atlantic," and the restaurant garnered much acclaim, including being named a "Top 25 Most Outstanding Restaurant 2015" by GQ, one of Philadelphia Magazine's "50 Best Restaurants for 2015," and being a recurring top ranker on Foodable's monthly "Top 25 Restaurants" list. To top it off, 2015 marked the year Elmi held the title of chef-in-residence at Philly's massive restaurant, Morgan's Pier, which seats about 500, according to sources.
On top of all these titles, Elmi still makes time for social media, an ever-flowing stream on his feed of restaurant updates, table openings, Instagram posts, and specials. In other words, he's approachable, personal, and isn't above making time to connect with guests.
Below, we ask the chef six quick questions, and discover the first meal that changed his life and the one (unique) ingredient he couldn't live without.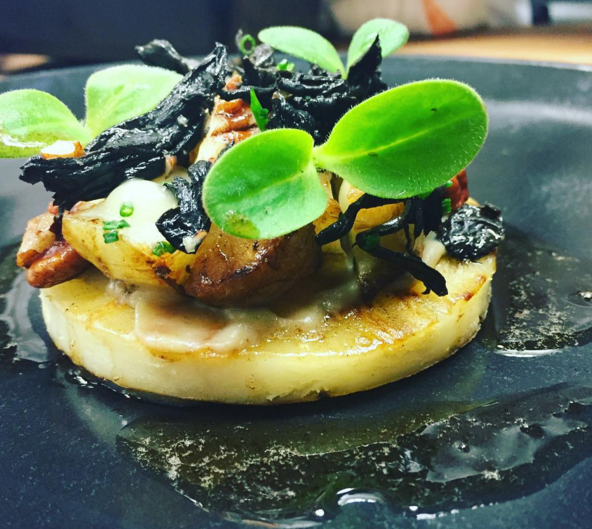 The Quick Six
Foodable: What's the first meal that changed your life?
Nicholas Elmi: Cacio e Pepe. It's the first dish I learned how to make in Home Ec. I'm one of six and we all took turns cooking for our family growing up. When I made that dish and saw how happy good food makes people, I fell in love with the idea of becoming a chef.
Foodable: Who is one person that you would love to cook for (that you haven't already)?
NE: Guy Savoy. I worked at Guy Savoy in Paris when I was younger. It was so inspiring and such an integral part of my training.
Foodable: Who is your culinary mentor?
NE: Has to be chef Perrier. Good or bad, he taught [me] about what it means to be a chef.
Foodable: Where is your favorite restaurant to eat at when you aren't working?
NE: Zeppoli in Collingswood. Best pastas around. I can actually take my 3 and 5 year olds there and not worry about them throwing fits because they just sit there and stuff their faces.
Foodable: One ingredient you could not live without?
NE: Kombu. For curing meat and fish. To add to broths. To braise and use as a garnish. I love it.
Foodable: What's the most important lesson you learned in your first year of owning a restaurant?
NE: Know your weaknesses. Don't do everything yourself. Hire the right people to cover the areas you're not equipped to handle.