Michael Fiorelli got his start as a chef at a young age after his love of reading cookbooks drew him into the culinary world. Leaving his hometown of Long Island and working for a number of chefs throughout the country, Fiorelli came to Los Angeles in 2006 to open Simon LA. After a only a short stint, the chef went on to head up the culinary program at mega-resort Terranea from which he would receive critical acclaim.
Throughout his time spent in various kitchens around the world, Fiorelli developed the philosophy that food only needs a little "love and salt" to be great and in 2014, the chef opened his concept of the same name in the quickly developing foodie city of Manhattan Beach.
Love & Salt's menu includes a number of local favorites including a fennel sausage pizza, rabbit porchetta and a tongue broth tortelloni. For diners who really want to splurge, the restaurant also features an entire roasted pig's head, served up with a maple vinegar glaze alongside a number of condiments and toast. While still a relative newcomer to the South Bay culinary scene, Love & Salt has already made itself quite a home in the beach community, amassing long lines at both the bar and restaurant nightly.
Below, we ask the Chef six quick questions.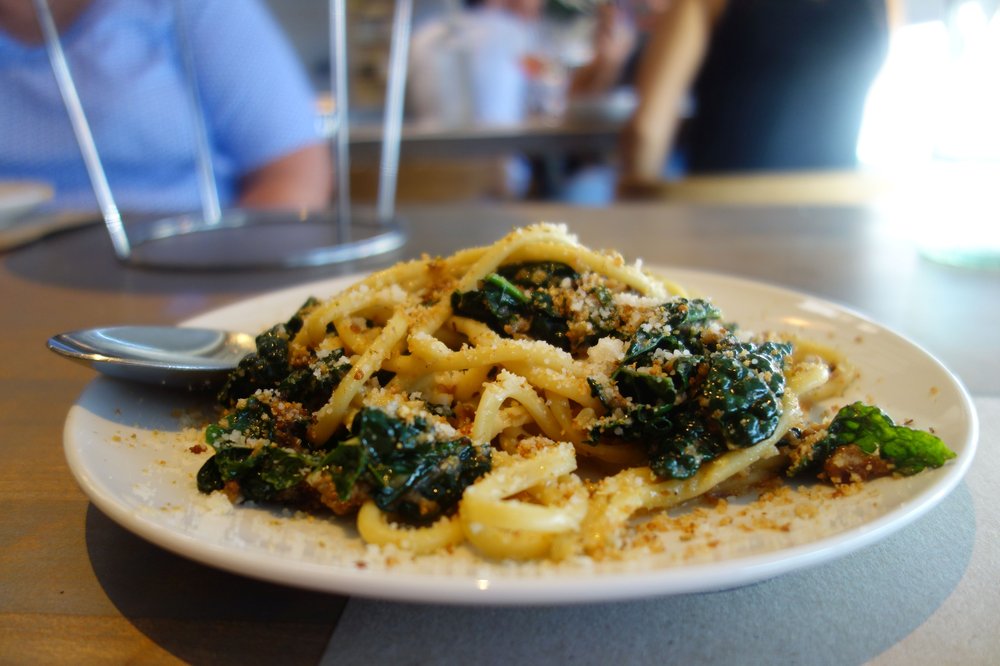 The Quick Six
Foodable: What's the first meal that changed your life?
Michael Fiorelli: Vine-ripened tomatoes from my mother's garden. I still remember how the flavor was so amazing that you could almost taste them before they were even in your mouth. Today, when I taste a tomato like that, which is a rare occurrence, it brings me immediately back to that place. It was the first cooking lesson I ever received -- that the simplicity and the quality of the ingredient should be key factors in the food that finds its way onto the plate. I planted and harvested those tomatoes with my mother. We watched them as they ripened in the sun in our own backyard and enjoyed them with nothing but a pinch of salt. This was literally my first introduction to love & salt.
Foodable: Who is one person that you would love to cook for (that you haven't already)?
MF: Jay -Z. Hands down. I'm a tremendous fan of his. We're both New Yorkers, and a good friend of mine was his personal chef at one time, so I know he has a tremendous appreciation for great food and great wine. I would love to cook for him.
Foodable: Who is your culinary mentor?
MF: My mentor was chef Peter Timmons. Certified master chef and executive chef of the Greenbrier Resort during my time there. He taught me to truly respect the ingredients. I don't know that there's a chef working in our country today that he hasn't influenced directly or indirectly. Sadly we lost chef, just this past year, but his legacy andtutelage will forever permeate high level kitchens everywhere.
Foodable: Where is your favorite restaurant to eat at when you aren't working?
MF: That might be the toughest question on the list. Although I rarely have a "night out" if I can think enough to plan ahead, I'm going to Alimento in Silverlake. It's a neighborhood spot. The energy is great, I'm able to relax and Chef Zach Pollack is so talented that not only is the food delicious, but I learn something every time I go there. That's what it's all about.
Foodable: One ingredient you could not live without?
MF: If I'm forced to choose just one I'd have to say great olive oil. Though good clean sea salt would be at the top of the list too.
Foodable: What's the most important lesson you learned (good or bad) in your first year of owning a restaurant?
MF: All the great things we've achieved are the result of amazing teamwork and outstanding partnerships. From the food that leaves the kitchen, to the music to the artwork on the walls. None of it could be achieved without the efforts of the entire team at Love & Salt and the incredible relationships we've built with so many amazing and talented people. In order to have continued success, it's imperative that we never waiver in that philosophy.