Chef Curtis Stone of Los Angeles' much acclaimed Maude restaurant, hails from Melbourne, Australia. After several years cooking at some of the top restaurants, he moved on to London to continue his culinary dream. Stone has since appeared on numerous cooking and reality shows, best known for his role as host and judge of Top Chef Masters.
Stone opened Maude in 2014 as a small, 25-seat restaurant that would allow him to continuously challenge himself by exploring new dishes and flavors that highlight a single ingredient. The restaurant became an instant hit and still today, reservations are a hot commodity. Yet despite his celebrity stature and well-acclaimed restaurant, Stone maintains a humble attitude, cooking simple, natural ingredients and spending his time giving back by volunteering and donating to a number of charities.
Below, we sit down with the chef and ask him six quick questions.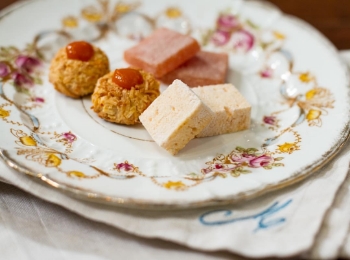 Foodable: What's the first meal (that you can recall) that changed your life?
Curtis Stone: My granny, Maude, was actually from the north of England, and she used to make this delicious, really sugary fudge. When I was a five-year-old boy, she taught me the recipe and it's really what sparked my interest in food. She's been gone for seven or eight years now, but I named my restaurant after her to keep those memories alive.
Foodable: Who is one person that you would love to cook for (that you haven't already)?
CS: I've had the pleasure of cooking for some super inspiring people in incredible locations, but after opening my restaurant, Maude, in Beverly Hills (Feb 2014), I keep thinking I'd just love her (Granny Maude) to see it and experience a special evening there with me cooking for her.
Foodable: Who is your culinary mentor?
CS: As a young budding chef, my mentor was (and still is) Marco Pierre White. His cookbook White Heat was the first cookbook I ever devoured cover-to-cover and upon completion, I knew I had to work for this guy. I flew the nest from Melbourne, Australia to London, walked into one of Marco's restaurants and asked for a job—I started that afternoon and worked for him for about ten years!
Foodable: Where is your favorite restaurant to eat at when you aren't working?
CS: I'll narrow the selection down to Los Angeles, where my restaurant is based… For a fancier night out with my beautiful wife, we like Urasawa. You basically have to sell something before you can pull up a seat at the sushi bar there, but it's well worth every penny. The space is intimate and exclusive, with approximately ten seats, and head chef Hiroyuki Urasawa is a true master of his craft; an exquisite dining experience.
Foodable: One ingredient you could not live without?
CS: White truffles. They totally move you. I have an instinctual attraction to them. From the very first time I smelt them, I was like "oh my god, what do we have here?" I was working in London and I can remember the truffle man coming in, opening the box and that was it, I was completely drawn in. At Maude we choose a hero seasonal ingredient to star in every course of the monthly degustation—that's snacks right through petit fours. And you better believe it; November at Maude is white truffle month. Booyah!
Foodable: What's the most important lesson you learned (good or bad) in your first year of owning a restaurant?
CS: I feel really fortunate that 1.5 years into opening the doors to Maude, it is full each night and we receive the loveliest feedback from our guests. I'm opening another restaurant next year in Hollywood and I keep thinking, 'how it did all the pieces come together so cohesively for Maude?' But like everything I do in a work sense, the team and I are having fun with it and the desire to open a little, fine dining restaurant came from a deeply personal place of doing something I wanted to do — genuine passion and enthusiasm is key for me.