Southern cuisine is a style often assumed to be dense, heavy, and even "overdone." But that's not always the case, as chef Alex Harrell exemplifies at Angeline in New Orleans, a recurring Foodable Top 25 restaurant located on Chartres Street at the Hotel Provincial in the French Quarter. As executive chef and owner, Harrell brings forth dishes that are simple in technique and straightforward in flavor with a touch of Spanish and Italian influence.
At the 90-seat Angeline, you'll find two dining rooms and a small bar that seats five, and a seasonally rotating menu that includes dishes like salt egg yolk ravioli, Mississippi rabbit milanese, and brined pork tenderloin. Dinner entrees fall in the $20 range, but the restaurant also offers breakfast and brunch at slightly lower price points.
Like most chefs, Harrell had always dreamed of having his own operation. Angeline, named for Harrell's mother (it's her middle name), opened in early 2015. Before that, Harrell was manning the kitchen at Sylvain as head chef, also in the French Quarter, since its opening in 2010. Born and raised in Alabama, Harrell wasn't always aware of his passion for cooking until he took a job at his friend's restaurant, though the realization could probably be tied to growing up working on his grandparents' farm on the Gulf Coast.
The chef grew into the New Orleans culinary scene nearly 20 years ago, when he began working under the tutelage of Susan Spicer and then Gerard Maras.
Below, we ask chef Alex Harrell six quick questions: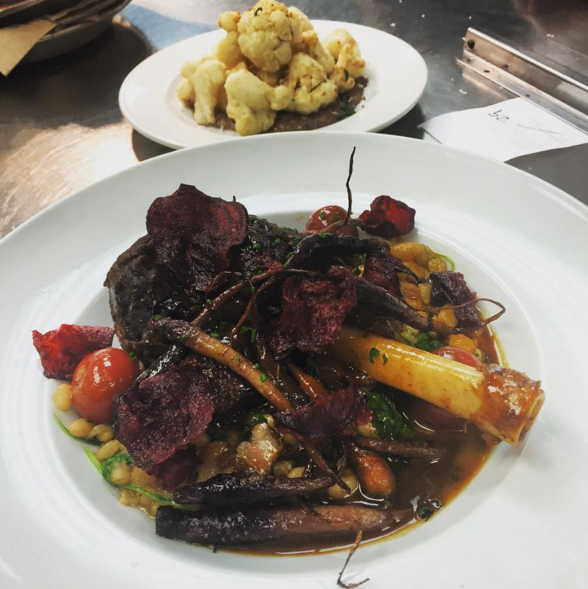 The Quick Six
Foodable: What's the first meal (that you can recall) that changed your life?
Alex Harrell: My first meal at Galatoire's in New Orleans as a child introduced me to the world of restaurants. I still remember the Broiled Redfish Meuniere Almondine, crabmeat maison, and caramel cup custard. I still order those same dishes when I go to Galatoire's as an adult.

Foodable: One person that you would love to cook for (that you haven't already)?
AH: I would love to cook for Jacques Pépin.

Foodable: Who is your culinary mentor?
AH: Chef Gerard Maras. He was able to get me to focus as a young cook, and he taught me what it meant to be a professional in the kitchen.

Foodable: Where is your favorite restaurant to eat at when you aren't working?
AH: I love the food at High Hat Cafe and Pizza Delicious.

Foodable: One ingredient you could not live without?
AH: Vinegar. I use vinegars in almost everything that we cook at Angeline and I have quite a collection at home as well.

Foodable: What's the most important lesson you learned (good or bad) in your first year of owning a restaurant?
AH: The most important lesson that I have learned from owning my own place is the importance of hiring really good people to work with you. As an owner, you can't possibly do everything, so you need people that you can trust and that you know have your back.