By Mae Velasco, Associate Editor
The newest brand to fly out the coop from the Fox Restaurant Concepts family is topping the expected on perfect pairings. Ever had handcrafted pizza and rotisserie chicken all in one joint? Well, Doughbird isn't chickening out of that challenge. (And the restaurant is perhaps fulfilling a demand that consumers didn't even know they wanted.)
Complete with a clean, rustic style and warm and friendly atmosphere, Doughbird opened its doors at the end of March and welcomes guests in from the desert Phoenix, Ariz., heat to enjoy savory munches like the crispy pastrami pizza with gruyere cheese or Rocky Free Range chicken with housemade chipotle barbecue or jalapeño pesto sauces. As the latest idea born from the mind of innovative founder Sam Fox, Doughbird joins its sister restaurants, including others top-ranking brands in Foodable Labs like Flower Child and True Food Kitchen, in the hunt for hospitality greatness.
There's promise for Doughbird, considering that Sam Fox is steering the ship. With 16 brands and more than 50 locations under his belt, this creative genius isn't a 10-time James Beard Award nominee for nothing, the most recent nomination being the one for "2017 Outstanding Restaurateur." Fox is all about pushing creative boundaries while still being a comforting place for customers to call home, a place where they can "break bread with the best people" in their lives. And how did the fun and funky — both different and familiar — Doughbird gets its name?
"We really challenged ourselves to come up with a name that was as one-of-a-kind as the concept. Something fun and sophisticated that could become part of people's everyday vernacular and resonate with guests of all ages," Fox said. "The team went round and round, and nothing struck me; until I heard Doughbird and I knew that was it. Not unlike the food, the name itself is memorable."
And the food is memorable, especially when items like bacon and truffled eggs and brussels sprout pizzas grace the menu.
"If I had to narrow it down to a few, I would say the Lebanese hummus appetizer," Fox said when asked about what first-time visitors should try. "It's really smooth, topped heirloom tomatoes, and served with our housemade hearth bread."
"The caramelized cauliflower from the rotisserie is another favorite. The head of cauliflower is sliced into steaks, slowly roasted, served with a grilled lemon that lends just the right amount of brightness. It's a great vegetarian option, too. The crispy pastrami pizza holds a special place for me since it was one of the first pizzas I created for Doughbird — plus, it's damn good."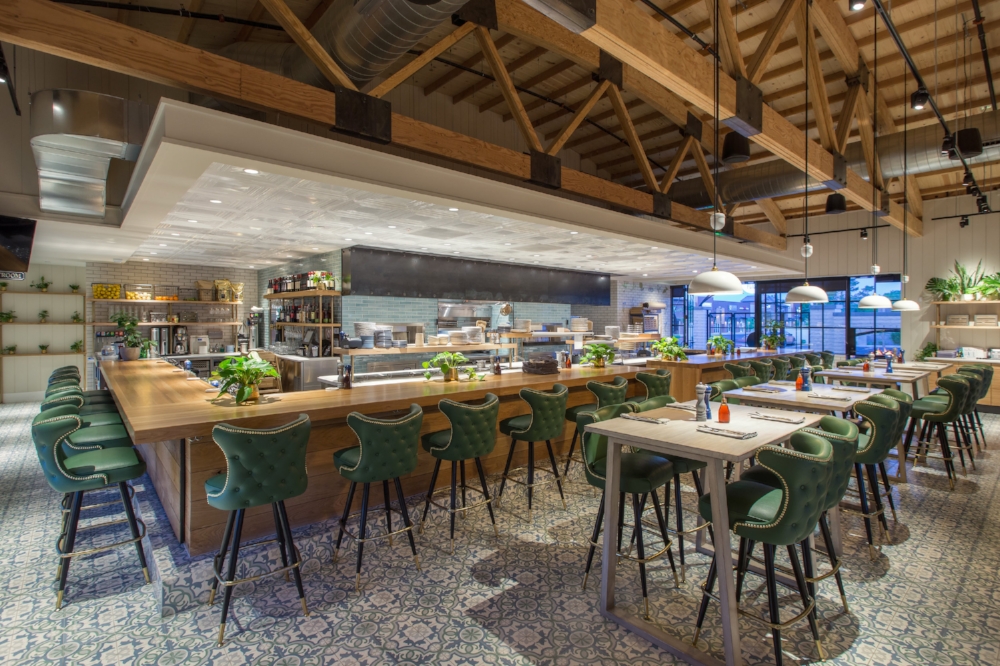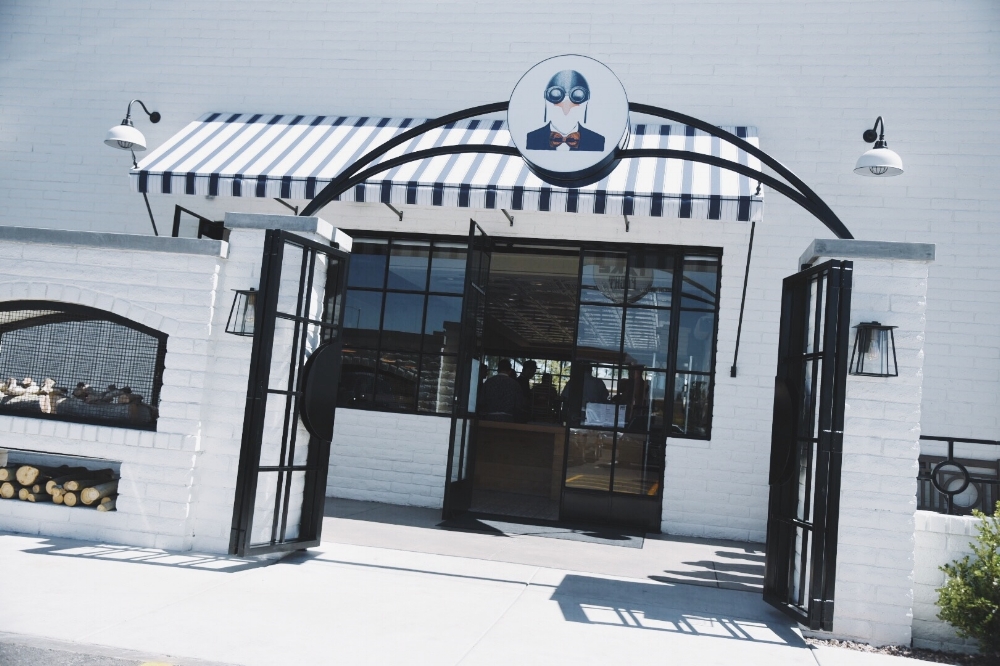 1. How did the idea of Doughbird first come about?
Sam Fox: I've been fortunate enough to experience some great flavors throughout the years. Unforgettable, extravagant ones and others as simple as a good pastrami sandwich. There's a range of new and nostalgic flavors that inspired Doughbird's menu, as well as concept in general. I knew I wanted to take a crowd favorite like pizza and rotisserie and then transform it into a unique experience on the plate. The sauces and sides really play into that, too, because guests can easily customize their dish each time.
2. What was your goal for this brand? What gap do you want to fill?
SF: Whenever we do something new, our goal is to open one great restaurant. We don't look past that or sit in a board room and say we are going to open 30 or 40 of these. It has to happen more organically. For me, the restaurant takes on a life of its own and tells us who it wants to be.
While pizza is a major part of Doughbird, we aren't just another pizzeria. Unlike deep-dish or Neapolitan style, we serve more of a California farm-to-table type pizza that combines unexpected flavors. Doughbird is also very much dedicated to the rotisserie, especially the chicken. It's so simple and hits every mark. Sometimes chicken can be unfairly categorized, and we are here to change that.
3. What sets Doughbird apart, besides its uncanny combination?
SF: The quality of the meat cooked on the rotisserie — that's used throughout the menu on sandwiches and in salads — makes all the difference. Our all-natural chickens are raised at farms around Sonoma County in California, while the prime rib is premium Black Angus beef from Creekstone Farms.
The pizzas are made with Bianco DiNapoli organic tomatoes and a blend of Central Milling organic flour and buckwheat. We use the same dough for our hearth bread that comes on the sandwiches and with the hummus. Seasonality will obviously play a huge role when it comes to rotating pizzas and sides throughout the year.
4. As a successful restaurateur with locations all across the country, why did you choose Phoenix?
SF: We are headquartered in Phoenix and with any new concept, we like to open them in our own backyard. Plus, there is some great real estate potential here. Tons of historical buildings, refurbished shopping centers, empty lots ready for a cool development, and neighborhoods that haven't even been tapped into yet. Where we've opened Doughbird, there's been a lot of great places opening around us. It has become an incredible neighborhood for hospitality.
5. We're sure the hiring and start-up process is crazy. Have any tips or words of wisdom for aspiring restaurateurs?
SF: There is no substitute for hard work and don't be afraid of failure. Not being afraid of failure has given me the courage to take big risks and make mistakes — and that's what moving forward is all about. You also need to be great at not only running a restaurant but also running a business. There are a lot of talented restaurant people who don't understand the business side, vice versa, and they both fail. A lot of people have experience and disciplines in one or the other, but mastering each simultaneously is when there's success.